April 7, 2008
0

found this helpful
You should call the vet and explain to the receptionist
what is going on and any suggestions to keep
cat comfy as you cannot afford vet bill now.
I had a cat that had problems and he was tested
and had Leukemia and that was long before
they had the Leukemia vacine.
Good luck/

April 7, 2008
0

found this helpful
Thanks for your help. Appreciate that very much :)

April 8, 2008
0

found this helpful
I have a female cat that was leaking urine. The vet said that her colon was packed with old stool.
Therefore her bladder was being pressed on and forcing the cat to urinate. His advice was a laxative for cats.
She did clear up after she had the laxative. Here is a website that you may want to try to see if you can get financial assistance for your cat. It is worth a try. Good Luck I hope your cat will be fine

April 8, 2008
0

found this helpful
Hi here is the website to go to, you may be able to get financial assistance. www.rescueguide.com
maybe they can point you to other cat charities that may be able to help you, if they can't. I forgot to put the website in my prior post to you.

April 9, 2008
0

found this helpful
Try googling on the Net with something like feline incontinence because sometimes there are vets on line who can give you free advice. You may have to register but it's worth a shot.
Also a place to try is your local animal shelter. I adopted my dog there and they have helped me out a lot with problems with my dog's incontinence. They may be able to direct you to financial assistance with your pet, they often have a lot of connections. Again, worth a shot.

April 9, 2008
0

found this helpful
First of all, best wishes to you in the new job and in hanging in there until you see a payday! You can be the cat who lands on her feet.
For temporary, I would put a bathtowel into a crate and confine the cat while you're at work, just to make it easy to clean up and save your sanity.
Puttin' up a prayer for you, 'cause I know you don't need the hassle right now - God Bless You, Kim

April 10, 2008
0

found this helpful
Thanks to everyone's replies. I have been unable to find anything that would satisfactorily put the symptoms together. I'm afraid it's just going to have to be a trip to a vet and lab work. I plan on checking in with the Humane Society of Utah later in the day to see if they have suggestions. I'd gotten some help with a local pet samaritan, but it just doesn't seem to be enough.
In terms of his behaviour, he hasn't been jumping up on the mantle of the defunct fireplace in my room, like he has to "stalk" me from. He mostly just lies on the bed and watches me. He eats and drinks when he's in the mood, no surprise there.
As for the "leaking", it's like he's laying wherever, and then starts to lick himself because urine's leaked out and he doesn't like the wetness. His respirations seem to be normal as well as his heart rate. I've got no qualms about the fact that I'm down to the mattress on the bed, I have Febreze with Pet Odor Eliminator that I use, and it does real well on smells.
I'm hoping that I don't have to wait too long for a paycheck, but am anticipating at least 2 weeks on the outside. He's only thrown up once in all of this, and that was because I'd let the dish get low so I could add a little tuna in and he snarfed that down before I even stood up (exaggeration) and I think that he just didn't handle that real good. There's been no other instances of that.
I'll update everyone as things progress, but I do want to say thank you to everyone here, yall have been really helpful in keeping my nerves down. Satan's my "baby boy". He's seen me through more in the last 4 years than I can even admit to. I included a pic of me and my boy. This was 2 days after I brought him home. He slept like that for 3 hours, I worked on my computer with one hand that night. He'd been fed, watered, taken to the litter box (new home), and given a couple of treats.
And then he started to "cry" until I picked him up and settled him in, scratching behind the ears. My step-dad took that picture. He still does that on occasion, when he wants "mommy", making typing difficult at best.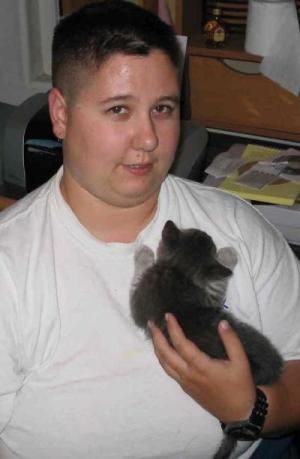 sandy
Bronze Request Medal for All Time! 87 Requests
April 11, 2008
0

found this helpful
I work at a human drs office. You are describing what sounds like a urinary tract infection. If it is and not treated they can be very dangerous in humans so iIguess in animals too. I hope you got some help from humane society or try the spca. or even calling your vet, if you have a good relationship with him/her.
By D88 (Guest Post)
April 14, 2008
0

found this helpful
You are an AWESOME pet owner! It's almost rare to see someone on here who isn't looking for a handout or someone to pay the bill for them.
I've worked in pet adoptions and rescue for almost 20 years and would LOVE to find adopters half as caring as you. Read as much as you can about cat urination problems. Also, make sure your cat is drinking enough. It sounds like you cat is prone to urinary tract infections since he seems to be in no physical distress.
The amoxicillin you used preciously that seemed to work would be a great guess and dirt cheap to get over the net. You might want to try this once before running the cat into the vet given your financial situation and the fact that the cat isn't in any pain or distress. It can't hurt and you stand a great chance of curing him too.
Get the same dose the vet had you give him previously and search. Don't restrict to "vet" websites as the drug is the exact same for humans. It will probably be the first thing the vet tries after a host of pricey tests so you have nothing to lose by being proactive.
Be careful and critical when choosing a vet too. We all get so worried about our "babies" we can loose sight of when someone is trying to pad their bill. If there are any adoption center clinics in your area they may be worth calling for some info or they might be more willing to set up a payment plan than a for profit private place.
Remember that vets mark up the drugs they sell you heavily just like human docs. A quick internet search of whatever they prescribe could save you a bundle. You might also want to buy a double dose so you have extra on hand should something like an infection reoccurred.
Good Luck!
By Hope (Guest Post)
May 11, 2008
0

found this helpful
This is typical for a cat with urinary problems which can be VERY serious for kitty. My cat was also sent in for an emergency "dislodge" of his urinary tract and continues to have problems. What I do know for sure is that high quality soft food is BEST. You want to make sure the first listed ingredient is water and the 2nd is the meat (and no by-product meat of course). I also bought a kitty fountain and he's drinks more now b/c of it.

October 24, 2018
0

found this helpful
Give your cat Urinari cat food. Not whiskas. It is littlebit expenciver but helps him to urinate. The cat has to eat this to hold his bladder clean of christals. Happens often for malecats that have been neutered. The vet should have told you last time you talked to him. Do not give him whiskas or other canned food.