We're in desperate need of some assistance with our planting design. We have a tiny garden space (so small that it can't be described as a 'front garden') that is shared with our neighbours, a duplex nextdoor.
The first picture is the view from our front door (looking out towards the driveway and street) and we have planted box hedge on the driveway side.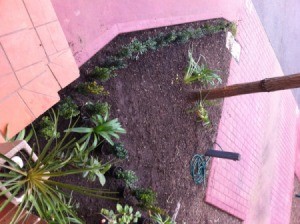 Should we continue the hedging across the front of the house and have the 3 camellias as a back drop? Should there be box hedge on both sides of the garden, which is essentially the neighbours side of the plot?
Please help. I really want to use box hedge, I thought it might be used to divide the garden plot somehow, however I'm having a lot of trouble staying within the design principles of a formal garden.
By Candice