This is how I give my dad a much anticipated gift for his birthday and also for Father's day. My dad loves to talk about the goodies that his mother used to make for her family.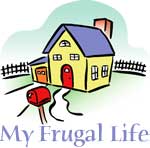 One of his favorites was Cream Puffs. He also raved about her Coconut Cream Pie and Coconut Cake. I decided that I would bake one of those treats for each special day, one for Father's Day, and another for his birthday. It just seemed to me that it was a simple idea, but his reaction when I gave him fresh baked goods, made by my own hands, let me know that I had "done good".
Now each year, I try to make something special, and it doesn't matter if I repeat the recipe that I used the year before, since he hasn't had that treat for a year! Flour, eggs, sugar, and coconut can be pretty inexpensive to buy, so the cost was not at all great, but the effort that I put in, and the fact that I remembered what he liked went a long, long way to make him happy.
This Christmas, I even made my dad a personal sized pie made with little tiny wild blackberries that I had picked myself. His eyes just shown when he got it. I also make a special cake and cut and decorate it in a special shape for my children's birthdays, and they think it is a great gift. A bit of extra effort shows a lot of extra love.
Patty from Darrington, WA
Do you have a frugal story to share with the ThriftyFun community? Submit your essay here: http://www.thriftyfun.com/post_myfrugallife.ldml