January 14, 2011
0

found this helpful
Possibly an old sheet cut into adequate rectangles would give you what you need but more importantly please do not put her through misery just to keep her alive for you. If she has no qualilty of life, it isn't fair to her to keep her alive and suffering just so you have her as your companion. If she has given you some wonderful years of love, show her what love is by allowing her to be at peace. I wish you the best.
January 14, 2011
0

found this helpful
Please listen to your veterinarian and the sound advise of "coniatthebeach" this beautiful girl is carrying two much weight and trying to save her will only add to her problem if you love her and I'm sure you do "set her free" god bless you both.
January 15, 2011
0

found this helpful
My Dear Masters,
Is this paralysis a permanent condition or symptomatic of an illness or injury that only needs healing? I can understand your reluctance to put her down if there's a chance of her regaining her health. However, if she is in pain with no chance of recovery, then read this "Ode to a Dying Pet" which was published in Thrifty Fun in Dec of last year.
If you think this fits you and your dog's situation, then you "must do what must be done" because
you love your dog. I know your own heart must be breaking, and my heart goes out to you. I've been
where you are today, and I know exactly how you feel.
Ode to a Dying Pet
If it should be that I grow frail and weak,
And pain should keep me from my sleep,
Then you must do what must be done,
For this last battle can't be won.
You will be sad - I understand,
Don't let your grief then stay your hand,
For this day, more than the rest,
Your love and friendship will stand the test.
We've had so many happy years,
What is to come can have no fears,
You'd not want me to suffer so,
When the time comes, please let me go.
Take me where my needs they'll tend,
Only stay with me until the end,
And hold me firm and speak to me,
Until my eyes no longer see.
Finally in time you too will see,
It is kindness you do to me,
Although my tail its last has waved,
From pain and suffering I've been saved.
Don't grieve that it should be you
Who has to decide this thing to do,
We've been so close, we two those years,
Don't let your heart hold any tears.
Source: 318 Prospect Rd Veterinary Hospital, Prospect, South Australia
By Roger from Adelaide, South Australia
I am so sorry Masters.
Pookarina
January 15, 2011
0

found this helpful
Last year I was exactly where you are now with my beloved Parker. Parker was a Labrador / Rottweiler mix that weighed 135 pounds. I took him to a Chiropractor twice a month and did everything I could possibly do other than performing an actual miracle.
I had him from 7 weeks old till almost his 11th birthday and he was my life. He could stand if my husband and I helped him stand up but once he lay back down that's where he remained. He had the huge Rottweiler body and tiny, slender Labrador legs. When he was standing he was so wobbly he often fell. Saying good-bye is never easy and staying with him until his very last breath and heartbeat was the hardest thing I've ever had to do.
Even so, I have no regrets, I put Parker down because I loved him way too much to have him spend the rest of his life not being able to walk. No more walks, car rides, going to Petsmart, visiting Gramma, and walking around the yard with me.
I knew the time was coming and when he couldn't stand up for 24 hours and stayed exactly where he collapsed I knew I had to let him go. I took it really hard and still cry about him being gone, even though I still have 3 remaining dogs. Parker was an only child for the first 2 years of his life and we had such a bond that I can't even put it into words. I'm also pretty sure there are thousands of people who feel that way about their own precious pet or pets.
It's never fair and even worse when the dog is young and hasn't lived what a Vet would call a full life. I did everything I could possibly do and my best friend is a well known animal communicator and he explained to me that dogs don't fear death the way humans do. He told me to sit down and talk to Parker and tell him about all the things that I learned from him, how I'll get a long without him and to thank him for sharing his life with me.
The night before we put him down I laid next to him on the floor and just cried, cried and cried. I talked to him for almost 2 hours and the entire time, he just rested his big head on my shoulder and listened. He was so big that I never could wrap my arms completely around his body to hug and one of his favorite games was to pop basketballs that I always bought at yard sales.
It's been 9 months and it still seems like just yesterday. I've had many, many dogs and loved them all but my relationship with Parker was so different that I can't even put it into words and I really do feel your pain. One of my dogs, Miss Emma quit eating for almost a week, she also was very close to Parker and looked up to him like a father figure. Where ever Parker was asleep, Emma was resting right up against him.
I don't know you and I wish there was something I could say to make everything alright even if you are on the other side of the world. I read that one poem that PookaRina shared with you and there's another one called, "Over the Rainbow Bridge".
It's okay to cry and be sad, our dogs loved us unconditionally their entire lives. As I was crying about Parker and sending out the e-mail explaining his passing on I came up with one sentence that said it all. "For almost 11 years Parker loved and protected me, he was my best friend"
My animal friend confirmed that I had made the right decision and that nothing else could be done and that was a big help. He confirmed that Parker was in Heaven and that he was absolutely thrilled to be able to run and be healthy again. I still have my pity parties and I still feel him around sometimes. I recently had surgery and I'm terrified of surgeries, but when I woke up, I was laying in the hospital bed just exactly the same way I would have laid at home with Parker in bed next to me.
I was crunched to the side and there was this huge area of bed not being used. What looked funny to the nurses brought immense comfort to me, he was not there physically but I knew he was there for me. Laying side by side he took up more of the bed than I did and when I was paralyzed for 6 months he climb up in my bed at night where most people usually rest their heads and he be my pillow. I snuggle my face into his neck and slept like a baby.
I prayed for him recently and told him that I was okay now and that I see him again someday. So I know he's finally really gone and not watching over me anymore but oddly Emma has taken over his job of staying by me at all times. I had to learn how to walk all over again and not once did Parker ever leave my side.
I'm comforted by all my dogs but Emma seems to know when I need a good cry and she lays next to me and puts her head on my shoulder. The picture below is the very last one that I had taken with Parker.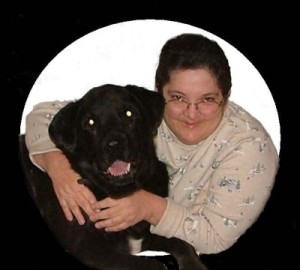 January 15, 2011
0

found this helpful
My dachshund ruptured a disc in his back. My vet did acupuncture and he was pulling himself up on his back feet the next day. Crate rest for a minimum of 8 weeks was mandatory for him to recover along with weekly visits to the vet for more acupuncture. I was thrilled with the outcome. I also learned to do exercises to heal his back. It's been over a year and I still do them. Good luck. I went on a website called able dogs. Sometimes crate rest is all that is needed. In order for them to go out to eliminate, a long piece of cloth is placed under his abdomen when I carried him out and it was used to hold him up as he could not hold himself up.
January 15, 2011
0

found this helpful
There is some very good advice here. I think all our hearts go out to you. There are "panties" for female dogs in heat that might work as a diaper. Let us know how things work out and best of luck to you.
January 21, 2011
0

found this helpful
Hello, I am here to say thank you to everyone for your help, advise, and support. I manage to find some diapers for teens then,I made a hole put some extra tissue and so far is working for her. During the day I walk her with a towel under her belly, is not so easy because she is a heavy dog but she is gets so excited when she sees the towel. I think she associates this with going for a walk now. It has been a very sad one, crying everyday and asking every night for a miracle for my dog.
I found my dog under a house I was renting when we lived in Texas. She has been loved and cared by me and even my friends therefore, when I decided to move to Europe I made sure my dog was as comfortable as possible in the long trip and we get non-connecting flights. We have been in this country only a few months, Negra was enjoying the cold climate and making friends in the park. When she suddenly lost strength on her back legs. I rushed her to the vets here, she was diagnosed with arthritis. They told me is putting pressure on the nerves. From what I understood and, that I should put my dog to sleep if the 3 shots they gave her did not work. I will like to express that under any circumstances, I will keep my dog only to keep me company.
Negra does not have any pain whatsoever, she is eating well and drinking lots of water. She can feel when she needs to go bathroom and lets me know so N can take her outside, we are taking her for "walks" everyday to the park with the towel under her belly. I feel is too soon for me to make a severe decision about Negra's life. In my heart I feel I must do whatever I can possible do to help her walk again. The rest I will leave it up to the doctors and god. I love my dog more than anything in the world and she deserves an opportunity to get better. On Monday we are going to see an specialist in the Netherlands and we will go from there. Thank you for you advise and comments. We feel lonely in this country but I found some hope reading your responses. I apologize if my English is not so well. From my heart thank you, from Kenya and Negra.