By Susan (Guest Post)
February 23, 2007
0

found this helpful
You could try squirting him with a spray bottle filled with plain water every time he tries to bite.
By Me (Guest Post)
February 23, 2007
0

found this helpful
How old is he? Is he hurting anyone or is it play bite?

February 23, 2007
0

found this helpful
i just yelled 'NO' at mine and he stopped it. But if he was doing it all the time like yours, id take him to one of the obedience classes.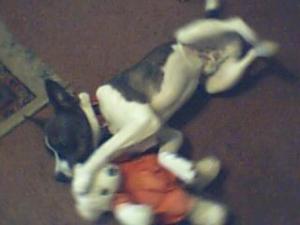 February 23, 2007
0

found this helpful
hi i have alittle chihuahua and when i got him he scared me because he barked and wanted to bite but my husband doesn't let him at all. be consistent and you dont have to hit hard. i use my finger and tap him on the nose and say no firmly at the same time and after a few times he stopped and also i bring my dog around a lot of people and i let them touch him it has stopped him from being scared and allows him to interact with others besides me
By (Guest Post)
February 23, 2007
0

found this helpful
I'm afraid I can't provide much comfort for you. We had one that did the same thing--had a particular yen for the flesh of children. My kids could never have company because of the dog, who kind of smiled before he took his chunk. We tried everything imaginable, including obedience (ha!) training to no avail. He finally made the mistake of biting my husband, and we took him to the pound.
Hated to do it because he was quite cute, but we just couldn't have him chomping on our and the neighbors' kids all the time. We traded him in for a nice mixed-breed mutt and lived happily ever after. We got the lhasa at a pet store, where he was recommended as being a particularly nice pet for children. Stupid us! A total lie! - Carol/Missouri

Pat Giles
Gold Feedback Medal for All Time! 791 Feedbacks
February 23, 2007
0

found this helpful
Have you tried swatting him with a flyswatter when he starts to chase someone?

February 24, 2007
0

found this helpful
We had a Lhasa for 14 years and she was the sweetest dog we ever had, so intelligent, so obedient, a great dog. When she died, we decided we wanted another Lhasa. Our 2nd Lhasa grew up her 1st 6 weeks next to a male African lion, and she thinks she's a lion, she growls "to communicate". She was quite a biter her first year or so, and still occasionally when I'm grooming her, she'll growl and snarl and act like she's going to bite. An animal trainer I talked to during the time she was biting so much said she was terrorized by the lion. I wish I had had the money to take her to obedience classes at that time, but didn't. She's very territorial, don't bother her kennel and her toys, but otherwise now she's a very sweet dog. Your dog just needs to know you're the master, he's the dog, dogs tend to think they're boss until you make them know they are not the boss. This is what Cesar Milan teaches, check out Cesar Milan's book "Cesar's Way: The Natural Everyday guide to Correcting and Understanding Dog Problems". I wish I had known about this book when our Lhasa was little. He's been on Oprah several times, he's also currently on the National Geographic Channel and website, his show is called "Dog Whisperer". He can calm a dog down and teach a dog in just minutes. Don't give up, Lhasa's are very intelligent, very sweet dogs, and we love ours very much even tho' she's doesn't have the same personality as our first Lhasa.
By Debbie (Guest Post)
February 24, 2007
0

found this helpful
My brother and family Had a Shitisu that did the same, playing nice with you one minute then without provacation he'd turn on you. Then one day a kitten came into their life! "Hoochie" would carry "Baby"(the kitten) with his mouth (we all thought a disaster was in the making).
They ate, played and slept together. Hoochie was 9 yrs old and turned out to be very good natured dog.
By Jill (Guest Post)
February 25, 2007
0

found this helpful
We adopted a rescue dog that was about 3 years old. He was adorable and so much fun. We loved him dearly . . . . except for his biting. We got books to help us correct the biting, we did obedience training, we were consistent in dealing with it. We finally ended up having to muzzle him on occasion, but this is not a good solution, because the dog cannot eat or drink with a muzzle on.
He attacked two of our other rescue dogs, with one of them needing surgery to repair the damages to the neck from the bites that were inflicted. The other two dogs had done nothing to provoke this animal. One was asleep on the couch when attacked, the other was playing with a fourth rescue dog we had.
When he got to where he bit my 86 yr. old, blind father-in-law for no apparent reason, we were horrified and stepped up our efforts to break him of the behavior. A few weeks later, he again bit my father-in-law without provocation. He drew blood both times. Within a week, he had bitten me twice on my hands without provocation. When he lunged at me and bit my upper arm, leaving huge bruises, and deep, bleeding puncture wounds, I had had enough. He was then confined in a large pen until we could get him to the vet in the next day or so.
I asked our vet to recommend a way to treat him, correct him, or medicate him or something. Our vet told us that there is no way to stop or correct the behavior of dogs who bite the way this one was biting. He strongly recommed that the dog be put down. We have used this vet for over 16 years, and he is not one to "solve" a problem by making this kind of recommendation.
I took the dog back home with me, and my husband and I talked it over, and sadly came to realize that we had done all we could do for this little rescue poodle. We followed the vet's recommendation, and it broke our hearts to do it.
We knew that if we took him to the pound, he would certainly find a home quickly, because he was one of those dogs that just grinned all the time, and he loved to play ball for as long as you'd throw it for him to chase. He had a gorgeous coat and a wonderful temperament if he wasn't in a biting mood. We couldn't bring ourselves to pass the problem on to someone else to deal with.
We knew that we had made the right decision when my bruises and punctures finally faded after more than two months.

June 25, 2007
0

found this helpful
The water bottle is a great tool. It really gets the dog's attention and they will always relate it to what they were doing when they got squirted. Don't use a regular squirt bottle though. I bought mine at Target in the garden department. It has a rather hard stream and will reach quite a long way. Dogs really do not like it. I have a Jack Russell Terrior that loves to jump on our company. I just squirt her with the water bottle and she settles down. Now all I have to do i pick up the bottle and she will stop jumping.
And it's very humane. I learned this at obedience classes. Another idea is to put a few pennies in an empty soda can and tape the hole shut. When your dog starts to smile like he is going to bite, just throw the can at him. It's light so it won't hurt him but will startle him. Soon he will relate his biting action with this thing coming out of nowhere thats very loud and scary. Hope this helps.

February 6, 2011
0

found this helpful
I'm a Breeder of Lhasa Apso's and indeed they are smart & bossy so here are a Couple of Tricks.
1. If dogs is biting, put him on the floor and turn him around 3 times and ignore him- This is a training trick and works for other things as well, cause it confuses the dog and he forgets what he was doing.
2. Look at him right in the face and say "NO BITE"
Most dogs grow out of it, but some seem to think by doing this. He is getting your attention. A Strong /Stern NO BITE really works.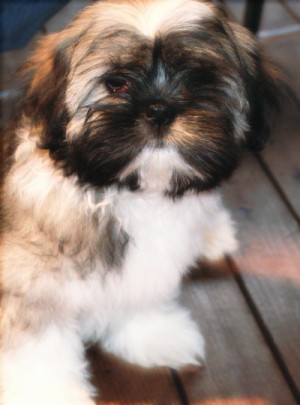 February 22, 2011
0

found this helpful
In reply to "guest post" answer you only sent your problems to another unsuspecting person and "never ever" buy any animal from a pet store. In the case of your dog, there are plenty of registered breeders that have a kennel prefix name to honor.