April 14, 2011
0

found this helpful
If your trip is in the fall, perhaps you have time to leash train your cat. Maybe not for walkies, but just so that she can't get away from you and be lost. In the motel room, I would keep her closed in the bathroom with her food dish and litter pan. You can get smaller, disposal litter pans and just use a small amount of litter which could be emptied while driving.
I hope this helps and maybe someone else will have some better ideas.
April 14, 2011
0

found this helpful
Hi, last year I travelled with my cat. She was insane for awhile so I let her out of her cage/crate which was large and roomy. That was worse she immediately headed under the seats which could present a danger to the driver. So she went back in the cage. We stopped at rest stops let her out and got out of the car so she could roam freely and stretch, use her covered litter box, eat etc. When she was in sight one of us got back in and caged her then the other in my case the driver my friend not her owner, me got in.
It wasn't bad after she got used to the plan. You could also get a harness and tie the leash to the crate so your cat can only wander so far and possibly end up in the back window. As for hotels, you are correct she hid under the bed immediately but came out soon and adjusted quickly. When we went to dinner we left her in her cage in the event management or maids etc came in the room. Hope this helps.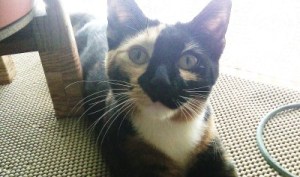 April 14, 2011
0

found this helpful
Be sure Kitty has a safety collar and tags with your address and phone numbers. Also a license and perhaps a microchip would be good. Make sure she is used to the collar before you go. They spend a lot of time trying to get collars off until they get used to them. It takes a couple months before they quit trying to get them off. Good luck!
April 14, 2011
0

found this helpful
I travel with my cat a lot (coincidentally, usually to Florida!). Be sure to keep her in a travel crate or a cage in the car. This is an absolute MUST with a cat. Made the mistake once of no crate and almost lost the cat!
In the motel, keep the crate door open any time you are in the room. Whenever you go to leave the room lock the cat up in the crate. You might be smart to put a small key type padlock on the cage door to prevent cat-loving service personnel from being able to take her out to pet her.
Put her litter box (I have a small "travel" box, but you can get a small plastic bin from the dollar store or Dollar General instead of taking her normal larger home one) under the sink where she has easy access to it, but it's not in your way for standing at t he sink. And put her food and water in an area where she'll feel comfortable getting to it.
When you leave, open the curtains just a few inches. She'll want to see out, but will also want to hide from passing dogs.
Another thing, anytime I travel with my pets (2 dogs and the cat) I always tell the front desk that I do not want any maid service during my stay. And I take a laminated sign and tape it to the outside of the door reminding the maids not to clean my room. I get fresh towels & such from the maids myself. But this alleviates the fear of the pets escaping out the door when the maids come in.
If you'll follow these simple tips, I'm sure you won't have a bit of problem! Have fun and good luck!
Traveling Pets' Mom
April 14, 2011
0

found this helpful
Get your cat microchipped, cat collars can slid off and microchipping isn't expensive anymore, also besides what everyone else has written, write an e-mail to yourself with all information that you could possibly need in a hurry, just in case she does get out by accident.
Where you're going, any and all possible phone numbers needed to include your Vet and any other information that you might think was important, Heaven forbid you needed it, you would be able to access it through any computer and be sure to attach a recent picture.
I would use a harness, not a collar. Many cats have slid out of their collars where they can't out of a harness.
Start conditioning her to the harness by leaving it on her for a few hours every day, once she gets used to the harness, attach a light leash to it and let her drag it around the house, she will adjust.
Also get a new ID tag made with your cell number and also the phone number of where you're going. Pay careful attention to what phone numbers you put down on as your contacts if you get her microchipped.
It's not going to do you any good to list your neighbor when you're headed to Florida. We used to travel back and forth between Alabama and Georgia often and I had the tags they always wore and an additional tag that I attached before we left with my mother-in-laws phone number and our cell phone numbers and removed when we got home.
You can always contact the microchip people and change your contact numbers.
I probably get a collar with a bell so there's no sneaking out between someone's legs.
April 15, 2011
0

found this helpful
I recommend that you have your kitty get used to the carrier you will be using along with the litter box etc. Have it out so she'll get used to it. Go on small trips with her and the carrier, i.e. a drive around the neighborhood. Also, there are pheramone sprays that are helpful to calm the kitty. Happy trails!