I have 2 very old lamps. They are black wrought iron and glass. I want to redo the lamp shades. The color doesn't matter much. I just want to know if anyone has any ideas on how I can redo them.
I have looked high and low for new shades but being the style they are, I can't find anything that looks right. They are tall, maybe off white in color at one time with a black and gold band around the top. I know they were purchased in the late 40's or early 50's.
By villagegirl2009 from Franklinton, LA
Add your voice! Click below to answer. ThriftyFun is powered by your wisdom!
June 19, 2009
0

found this helpful
I think some burlap would like nice, it would look rustic with the glass and wrought iron, and then you could trim it out with some ribbon to match or coordinate with the color of the glass or the decor. You could whip stitch the burlap onto the existing shade frame, then glue the ribbon or trim on to cover the stitching. My mother had an old set of lamps like that---the glass was orange colored, and she trimmed the burlap in some avocado velvet ribbon. It went along with the 1970's Spanish style she was looking for!
June 19, 2009
0

found this helpful
Thanks so much for the advice. With all the great ideas, I can't wait to get started. Thank You All!
June 25, 2009
0

found this helpful
Here's something you might like to try. http://simplyspray.com/
Also, hit the fabric/craft stores for all sorts of trims (fringe, braids, etc). Can do this for almost nothing. All's you'll need after the spray is a hot glue gun for your trim.
Hope you can post before/after pics. HTHs
Theresa :)
June 25, 2009
0

found this helpful
If you still have the old shades, buy fabric and cut panels the same size as the old ones, and using a glue gun, glue the panels to the frame. You can use old curtain from a thrift shop. Then use grograin ribbon or tape to glue at the edges.
June 25, 2009
0

found this helpful
Thanks for the advice again. I'm glad I didn't start yet. I am so excited with the new ideas coming in.
June 27, 2009
0

found this helpful
I recovered a vintage shade just last weekend. Drum shades (perfect cylinders with no slope on the sides) are the easiest to do. First, remove any trim from the top or bottom edge and take off any existing fabric if possible. Then, measure around your shade and add an extra inch to this measurement (for folding over the extra and creating a "finished" edge).
Measure your shade top to bottom, and add an inch to this measurement also (so you'll have enough to fold over and glue inside the shade top and bottom). If this is the first time you've ever recovered a shade, choose a fabric that doesn't have a pattern like stripes or a plaid, because it will be tricky to match. Iron your fabric well and spray the WRONG side with spray adhesive. If you use hot glue all over the shade instead, it could show through once the lamp is on.
Line the edge of the fabric up with the edge of the seam on your lamp, and carefully roll on top of the fabric, making sure you have equal amounts of fabric top and bottom of the shade for later. Stretch and press the fabric firmly against the shade to encourage it to stick well. A blow-dryer can be used to reheat the spray adhesive if you fear it's not sticking tightly enough to the shade after it's applied.
When you finish, take the extra inch of fabric and fold it over at the seam to hide the raw edge, and hot glue it down. Then, fold the extra fabric inside at the top and bottom of the shade and use the hot glue gun to secure it. You may need an x-acto knife to trim it evenly later if the edge isn't even. You may decorate your edges with ribbon, fringe, beads, you name it! You can also stencil on designs, decorate with silk flowers, tassels, or whatever. Here's my rummage sale lamp with its $1 Goodwill shade, wearing a new cover of broadcloth and grosgrain ribbon. Enjoy!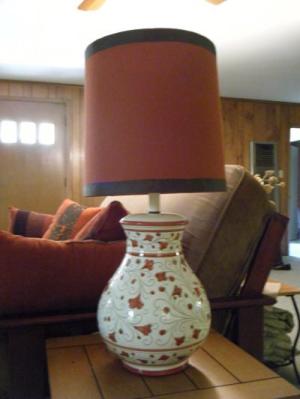 June 28, 2009
0

found this helpful
I love it! I did mine and used a glue gun to glue and you were so right about it showing. I was able to remove it but I never thought about the blow dryer. I used an iron. I will do the spray this time. I wish you lived near me. Looks like you did a great job!
Add your voice! Click below to answer. ThriftyFun is powered by your wisdom!
June 18, 2009
0

found this helpful
I have a couple of floor lamps that need new shades. They are inexpensive lamps from Shopko, Kmart, etc. The floor lamps have 3-way lights. New shades cost almost as much as a new lamp would. The shade is about 9" high; the bottom diameter is about 14", and the top diameter is about 6-1/2".
I do not sew therefore that is not an option. I was thinking that maybe I could buy some inexpensive wide ribbon and wrap it from the top ring to the bottom ring around the whole frame, but I'm not sure if this would be safe with the heat of the light. Any inexpensive ideas or advice would be appreciated.

Thanks.
Judy from WI
Answers:
Lamp Shape Ideas
I have recovered lampshades with fabric and used a glue gun to attach the material. You could use some double sided sticky Velcro. I have also painted the paper type of shade with craft paint. One of my shades, which was a plain cream color paper type, I used wallpaper cut outs on it (called Wallies) to give it a different look. I have never experienced any problem with the bulbs heating up too much, but then again, my lamps are only 60 watts or so; I wouldn't see any reason why you couldn't use some ribbon along the edges. (06/12/2007)
Lamp Shape Ideas
I re-covered a lamp shade once with lightweight polyester fabric. Like your shades, it was smaller on the top, so I used a length of fabric the diameter of the bottom, plus an inch for lap over, and at the top, just took tucks in every 4 inches or so to make it fit. Or you could just run a gathering stitch across the top and have gathers there. Glue the vertical seam and glue your ribbon around the top and bottom edges to cover the fabric edges. There was no problem with the fabric heating up. (06/13/2007)

By Jantoo
Lamp Shape Ideas
I've seen your idea about the ribbon many times in crafting magazines so I guess it's safe as long as it doesn't come in contact with the bulb. I don't know how old you are, but when I was growing up a hundred million years ago lamp shades were made of paper or fabric, no plastic as they are today. (06/13/2007)

Lamp Shape Ideas
I like your ribbon idea, you could weave ribbon horizontally through the verticals, and stick fake flowers in the weave. Or something. Hey, if you can put your hand on the fabric inside the shade while the bulb is hot, then it's not hot enough to damage the ribbon or start a fire. (carefully, don't touch the bulb) Just think, sometimes things come out of the dryer almost too hot to touch when you stop the cycle early, and they don't get damaged, so you can let your imagination take charge. (06/13/2007)

By Kim Ch
Lamp Shape Ideas
I recovered a pair of lamp shades and I took the shade and laid it on a newspaper for a pattern, depending how big your shade is you might have to glue two together. Then I took the shade and rolled it along while tracing it on the news paper on top and bottom. After you trace it cut a one or two inch seam so you have a extra material to fold over the shade and glue in on. Round shades work the best for this.This way you don't have to take off the old shade. I used light upholstery material and some trim and they looked great. (06/13/2007)

By Jan
Lamp Shape Ideas
I have decoupaged the old shade and that really spruces it up. Also, you might want to try sponging several shades of craft paint over the old shade. Make sure you use soft, light colours or you will be disappointed with the result as my mum did many years ago. (06/14/2007)

By Lisingreece