The "Brats", are left to right, Vic, Midge, Jose, Addy, and Minnie. They are 3 1/2 + year old Chihuahuas.
Minnie at the end, was from a friend as a pup, Midge in middle from a friend as a pup, the other 3 are Minnie's pups.
These 5 "Brats", are a pretty tight pack, and love to run, eat, play, exchange bones, and snuggle together. The only thing they love more than each other, is us, their humans!
I never dreamed of having 5 chi's, but, they are such a funny pack of "Brats", Minnie is the "Boss", (on far right), her whole name is "Minnie Pearl". She's the momma and boss.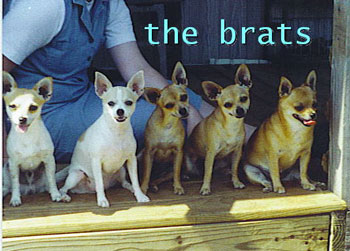 By Glinda from Glendale, Ky.