January 25, 2010
0

found this helpful
That Simon has got to be the cutiest except for mine. He looks just like my Lester but looks like he may be a little heavier. I simply love Dachshunds. They are so smart and so easy to housebreak.
January 25, 2010
0

found this helpful
Most people say doxies are the hardest of all breeds to housebreak, because they are so stubborn. I wish my doxies were easy to housebreak! We've been trying unsuccessfully for 7 years. Some days they are perfect - other days they are absolutely horrible! I think it's cause we have two males - a;ways trying to outdo each other!
By the time we knew they were terrible at housebreaking we were totally in love so we put in floors that were easy to clean and made them an indoor potty- like the ones you see advertised. Most of the time they are OK but there are those days. Thanks for the comment. Simonsmommie
January 26, 2010
0

found this helpful
Very cute. They look like a yin/yang symbol.
January 27, 2010
0

found this helpful
I see someone beat me to it. My first thought was yin/yang too!
January 27, 2010
0

found this helpful
I also have a Standard and a Miniature Dachshund. Mine are both black and tan, named Princess (the standard) and Buddy (the mini). I got them each from breeders. They have been much more than pets or even members of the family. They are a part of ME.
They are best friends too, along with the kitten (Shassy) that I got this year. If one dog is outside the other will stand by the door and then come get me when the other comes up to come in. If both are out, the cat sits by the door till they both come in. The three of them will chase and wrestle all over the living room.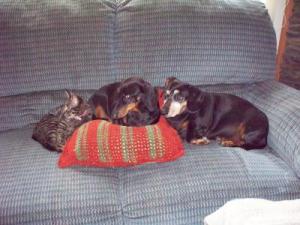 February 2, 2010
0

found this helpful
My male dachshund is stubborn about some things too but I had no trouble whatsoever housebreaking him. He goes to the door and barks when he needs to potty; he even goes out in the snow. But if it's raining he goes to the garage.
I don't work and am with him most of the day so I'm sure that had something to do with it. But days when I'm running errands I can be gone most of the day and he'll hold it until I get back then when he goes out he'll pee what seems like a gallon.
March 23, 2011
0

found this helpful
I had no trouble housebreaking my doxie either. She still pulls on the leash during walks though. If anyone has any tips for that please share!