Easy box to make using Popsicle sticks layered and glued together to put trinkets in such as coins, jewelry, coupons, memorabilia, photos, receipts, pins, buttons, etc. Great Father's Day gift. My daughter made this for her dad at Girl Scouts.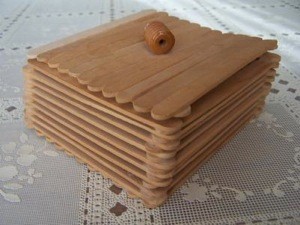 Approximate Time: 1 day (accounting for the glue drying time)
Supplies:
wood glue
60 clean sticks
large button for handle
Instructions:
Lay the 2 sticks out across from each other on your left and one on your right.
Lay 2 more across the first 2 in the opposite direction. Glue the tips of the sticks where they touch at the corners.
Add each row gluing the corners.
This box has 9 rows (36 sticks for the 4 sides).
The bottom can be glued on after the rows are completely dried. Put a layer of glue on the complete bottom after it has been glued to the sticks on the side.
The top is made by laying 2 sticks opposite each other. Lay each stick close to each other and going across the first 2 laid down. Gluing to the 2 laid down first. After dried put a layer of glue across the whole top to hold sticks in place.
Attach a large button for the handle.
Let each piece dry completely. Paint and decorate as you please.
By Little Suzy from Millbury, Oh
Comments
September 4, 2015
0

found this helpful
I made these as a kid at camp. Glad to see they're still around.
September 5, 2015
0

found this helpful
My daughter is 35. I still have the one she made me on my dresser.
They last forever. I did give it an upgrade with some wood stain and a decoupage flower on lid.