Being known to stretch a pretty buck has been my forte as it has kept me in-tune to bargains, better eating habits, and extra cash on a rainy day.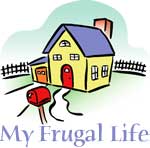 It has also rubbed off on the bad spending habits and bad financial values of my husband; and even quit smoking after tabulating the cost of cigarettes (Quit 9 years exact! Hooray!)
Meals: Who said you always have to eat meat? Plus no one said you have to omit it just because you want to stretch that dollar. If I buy roast, it gets cut up into smaller portions so we can have two meals of roast a month instead of one. Plenty of vegetables not only adds to the meal, but adds to you consumption of good supplements. So there is less meat, and more vegetables.
Buy seasonal clothing, even appliances: Always buy off season. Years ago I found this remarkable article of when to buy "off season" on everything. I follow it to this day and get great bargains.
Cut cable bill: I totally wiped it out of our lives. And when I want to watch a great program, I watch it on hulu.com or rent a movie from RedBox.
We don't pay for lawn service, we do it our own. Thank God my husband loves to mow. But even wiping out those horrible synthetic chemicals from our lawn has got us going green all the way. Not only are they bad for the earth, but for our pets and children. We reuse the grass clippings and even the fallen leaves for mulch.
We are looking at purchasing a propane grass mower to cut the carbons that gas mowers produce.
Happy Barganista!
By Ana from Magnolia, TX
Do you have a frugal story to share with the ThriftyFun community? Submit your essay here: http://www.thriftyfun.com/post_myfrugallife.ldml