November 21, 2007
0

found this helpful
i know the one your talking about its so pretty too. we use to have some on the walls in a place once. my present livingroom is a adarondac (think i spelled that right) look with bears deers. i get anything that has the lodge theme, i also sew items with that theme. walmart has some really pretty fabrics with deers in the woods scene in colors of rust or browns or blues. some covers for your exsisting sofa pillows would look good with it.
just make covers with one end open so you can change out when you tire off that look. i also get alot of lodge items from collections etc. i have a wall lamp sconce that looks like a tree branch with pinecones on it. they have ones with deers antlers and small shades too. if you have a fireplace they have a log holder with deers on it. i took old grey barn lumber and made me a frame for my pictures that match the theme.

November 21, 2007
0

found this helpful
Thanks, thats a good idea.. (lodge Theme) I also
shop collections ect and I know the stuff your talking about. Thanks Again
By drsanders (Guest Post)
November 21, 2007
0

found this helpful
go with the mountain retreat look-bears, canoes, etc.
things you would see inside a cabin.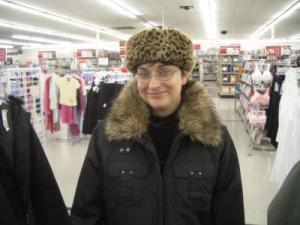 November 21, 2007
0

found this helpful
colectionsetc catalogs have some discount shipping coupons on the fronts of them. if you haven't recived one lately request one before you order then use the coupon its good for internet orders not just for that catalog. also a friend just sent me this one too its like collectionsetc
www.lakeside.com/home.asp?EMC-071055&LNK=HomeMain
and they tell the shipping too which is very reasonable.
i also took some already wooden picture frames and glued twin string rope around the corners to give it a country look. and on my wooden coffee table and end tables that were just plain wood I printed a picture of a small bear & foot prints and cut that out with tiny curved sissors and used it as a stencil. I traced around the inside ot the bear stencil with an ink pen then used my wood burner and tips to get this look of rustic yet lodge theme.
I bought the deer fabric I mentioned and made my valances from them & matching pillow covers for the sofa.I recently got me some pinecones & dipped them in candles with a scent that I melted & place them in a basket by my fireplace to look at and burn to smell good.My husband thinks I go to far with the lodge look but I can't do enough I think. I got an idea from here at thriftyfun about a lady who makes rag rugs from fabric scraps so I took old flannel shirts ripped them in strips braided them and I'm hand sewing them together to make some rugs for infront of the fireplace.i took some wall paper boarder that was of bears in a creek(you can get free samples at some wallpaper discount stores or at the least pay $1.00 each) just pick out what you like they give free or very small charge.
and I put that inside a picture frame. when you search at collections online just put in key words like moose bear deere because not everything is in there lodge section. heres a pic of my end table. the lamp you see the base was yellow (got yard sale) i mixed some acrylic paints in rust color and brushed the collor on (paints at walmart 44 cent a bottle made by apple barrel) the thin covers you see on the sofa are from harriet carter web site. most things i've got on there were cheap & fell apart but those are great to cover the sectional to keep it clean while matching my decore theme. they were like 5.99 each size is like 6 feet by 6 feet and they have the top whip stich to them. I'll not bore you with more, theres lot but i'll hush and give others a chance to give there ideas:) happy holidays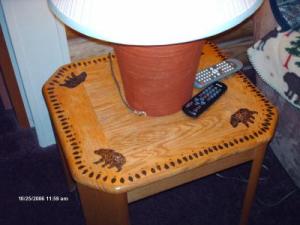 Even a candle scape like this would match with the lodge scene year round. I have one with pillar candles that have leafs on them and pine cones around them in a wooden try that sits on my fireplace mantel thats just for looks i don't burn them. I even take plain pillar candles and hand paint on them adding leafs, birds, etc.
I like this candle scape so good I may get one myself. The catalogs that come by mail have different coupon codes for shipping of different prices. The one I just got is $2.99 shipping on any order amount. I use it on line after I have picked out all my items. It does not have to be used just in that catalog. By the way, if you order something from them and any parts are missing for assembly. Just email them with all your info on the item and its missing parts. They will try to get them sent to you. If they are unable to get them, they will send you full price(minus shipping) for that item, and you do not have to return your item received previously. they did this for me on a little lighthouse cabinet that was missing 8 tiny tiny screws.
I got this bear rug for my grandson to lay on or lay across his little wooden rocker. It washes in the machine and dryer just fine. Looks cute on the sofa arm too. A lot of these things go on sale at times, so you could add them to your favorites, and just watch them for later for prices to drop.
I got this one 3 yrs ago at $8.99. They use to advertise all their things nothing higher than $14.99, but prices have raised to $19.99 on highest. I guess everything goes up. Sometimes you can put in the same name of the item on ebay to search and find sellers selling one just 1/2 or less from where it's slightly used. I did that with some little metal candle lamp sconces. Also some sell the same things for 3 times the price new, so beware of them.
www.collectionsetc.com/Item16124.aspx?crossitm=1