Our Lawn After Fertilizing And Reseeding
This spring I used starter fertilizer and planted Scott's Thermal Blue grass seed and just look at our lawn! It had so many large bare spots after the drought last summer! This seed is great and grows fast!
By JoAnn from Knoxville, TN
June 22, 2012
0

found this helpful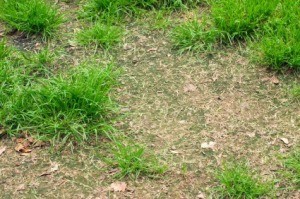 Is your lawn starting to look tired and unhealthy? If its plagued by weeds or struggling to grow, follow these 7 steps to bring it back to life.
7 Steps to a New and Improved Lawn
The best time to rejuvenate your lawn is in the early fall or early spring, just before your lawn enters a period of new growth.
Test your soil: Test your soil for pH and major nutrients. This important, but often overlooked step is necessary for determining what, if any, soil amendments are needed to rejuvenate your lawn. Applying the wrong type of amendments or the wrong amounts can result in a lawn that is worse off than when you started. Your states cooperative extension agency can give you more information on how a soil test works.
Get rid of weeds: Remove deeply rooted and spreading weeds such as dandelions by hand, or with a hoe or a long-handled claw weeder.
Mow it short: Use a lawn mower equipped with a bagger to mow your lawn very shortas close the surface of the soil as you can without scalping it.
Rake the topsoil: After mowing, go over the area with a metal rake to loosen the top ½-inch of soil.
Add amendments: Using the results of your soil test as a guide, amend the soil as needed with lime and/or fertilizer. You will be planting new grass seed, so use a high-phosphorus organic fertilizer or a synthetic starter fertilizer (5-10-15 or 6-12-12) formulated for new lawns. Follow the label directions for application rates.
Improve the texture (optional): If your soil consists of heavy clay, you can improve its texture by aerating it and filling in the holes with a ½-inch of good quality topsoil. Aerating can be done manually (by walking across the yard with aerating sandals or by pushing the tines of a digging fork into the soil about 3 inches deep) or by renting a power-driven core aerator.
Plant new seed: Use a drop spreader to distribute new grass seed evenly over the prepared area. Lightly rake the area to mix the grass seed in with the top ¼-inch of soil. Then walk over the area or use a lawn roller to press the seeds firmly into the soil. On slopes, you may want to cover the grass seed with a light layer of straw to help hold it in place. Until the seeds germinate (10-14 days), water the area as often as necessary to keep the soil consistently moist. Ten minutes twice daily should be sufficient unless the weather is extremely hot. When the young grass reaches 3 inches tall you can begin mowing it.
Dethatching and Topdressing
Certain types of grasses grow to form tight mats of sod. This can lead to a buildup of thatch (a layer of dead steams that accumulate near the surface) with repeated mowing. An excess of thatch can reduce the ability of water, light, and nutrients to reach growing roots. This can be remedied by renting a power dethatcher (for large areas) or using a metal rake or manual dethatcher on small areas. Dethatching should be done in the late spring, just as the grass turns green. If crabgrass, chickweeds, or even dandelions have been a problem in the past, consider choosing a natural, organic weed-n-feed like corn gluten meal to help prevent new seeds from germinating (its not effective on existing weeds, just weed seeds). Apply it in mid to late spring (April/early May), and then again around mid-August. Apply corn gluten meal at a rate of 20 pounds per 1,000 square feet of lawn and water it lightly into the soil to activate it. It should remain effective for five to six weeks each time you apply it. Do not use corn gluten meal if you plan to overseed your lawn, as it also prevents grass seed from germinating.
June 27, 2017
0

found this helpful
You can help keep your lawn healthy and green in a number of ways, from not removing the clippings after mowing, to using homemade and commercial fertilizers. This is a page about lawn fertilizer tips.