We adopted Zero after our cat Oolong ran away. Our kids were devastated, and after awhile we decided that we would look at rescuing another cat. We found Zero at the Humane Society when he was about 3 months old, he is now 1 1/2 years old. Little did we know that not only would Oolong make his way back to us 3 months later (bringing us to 3 cats), but that Zero would mature into a 23 lb. "dog"!
He is convinced that our dog Paige is his mom. He has slept with her since the day we got him. Even now, she tolerates him sleeping with her and ignores the fact that he lays on top of her to do it. He will only drink out of her water bowl, which is over 1 foot off the ground, requiring him to stand on his hind legs.
Zero eats and sleeps for fun!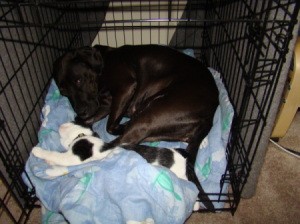 Human food is his favorite if he can get his paws on it, especially pretzels. He has a lot of weight to maintain. :) He is a big cuddle bug and does his best to force his will upon anyone that sits still too long. He loves to play with bottle lids, pom poms, and toilet paper on the roll. He will also carry pencils and markers around the house. He likes to hide from us, which involves putting his head under or in something, completely unaware that the rest of him is sticking out.
We must carry him on his back like a baby or risk getting bit! Belly up seems to be his style in general. Laying in the middle of the floor on his back requires a belly rub too. He is high maintenance but he brings a lot of laughs to our home!
By lalala...