October 4, 2007
0

found this helpful
Flannel? I've seen then made of fleece but not flannel. Fleece ones, to make it easier I recommend you buy a rotary cutter, mat and a template. The rotary cutter saves sore hands, the template makes it easy to have the same size strips all the way around and on both blankets, just cut and tie into a square knot.
For flannel, I would recommend sewing the two panels together first, leaving a long (depending on the size you are after for the ties) seam allowance, then cutting (I would recommend a mat and rotary cutter again), then tying into square knots. The reason I question this all is because flannel can run and pull, so I wonder if it would be shredded looking after a wash or two.
But I hope that helps, either way.
October 4, 2007
0

found this helpful
There's a HUGE difference between fleece & flannel. Fleece doesn't ravel when cut & flannel does. So, I'd say it can't be done unless you want a bunch of strings hanging out from your blanket that will get 100 times worse when you wash it! If you've seen these made out of flannel, then I'm pretty sure it was KNITTED flannel NOT woven flannel. (because knits won't ravel) I bought some knitted flannel recently. You'll know the difference because the knitted flannel will stretch a bit. Here's a warning: When I washed my soft-as-can-be knitted flannel, it really shed & got pills on it. (Like a sweater would) Fleece will wash up much nicer, I can practically guarantee it & you may be able to find a thinner fleece to work with.... If it's cotton fabric you want, then stick with the knitted flannel (mine had a bit of Lycra in it) Be sure to wash the fabric before you make a gift for a child. Not only are new fabrics loaded with formaldehyde & other chemicals, but this way you can see how the fabric will behave before you make your gift.
-------------------------------------------------------------------------------------------
* I'm going to go out on a limb & & guess many of you out there reading this may not sew or you don't have a sewing machine because I believe these "Tied together Fleece Blankets" are popular because they are marketed to those who don't sew. But there are other options for those who don't sew or don't have a machine to make blankets, Here are several:
If you have an iron, Your set! (if not, they are about $4 at a Thrift Store or $6 new for the cheapest iron at Walmart)... You can buy iron-on webbing tape at any fabric store & at many dollar stores. You simply place this iron-on webbing in between the fabric areas you want to bind together & heat the iron up (using no steam is preferable) & press together. You can hem flannel or jeans this way & it washes up fine. If the iron-on webbing is to small, just ask someone at a fabric store, because you can buy "Stitch witchery" or other brands of iron on webbing in larger sheets (to bind larger sections together) The directions are on the product. Fabric webbing is a great way to patch your kids clothes too & a great way to add trim to home decore & craft projects.
A second "No Sew" option is to use fabric glue. When buying a brand of fabric glue, you want one that says it can be Washed, Dried in the machine & dry-cleaned. There are several that do this, one is clear & in a clear bottle (you'll recognize it) called "Fabric Tac" the other is "Unique Stitch". Just follow the directions. You can glue your 2 pieces of flannel together without sewing them & even sandwich classy fringe between the layers (coming out the sides) or add trim to the edge.
"Fabric Tac" Brand of CLEAR fabric glue: PRICE $5.24
www.joann.com/.../catalog.jsp?CATID=cat3268&PRODID...
Unique stitch brand of fabric glue: PRICE $5.99 for a pack of 2
www.joann.com/.../catalog.jsp?CATID=cat3268&PRODID...
Iron on Fabric Webbing tape: (it comes in different strengths) PRICE:$1.18
www.joann.com/.../catalog.jsp?CATID=cat3560&PRODID...
Stitch Witchery, (this is a whole roll, go to a fabric store to buy it by the yard)
www.joann.com/.../catalog.jsp?CATID=cat3560&PRODID...
October 4, 2007
0

found this helpful
Thanks all of you. I do mean fleece. I mistakenly reffered to the fabric as flannel as I have heard many do and knew they were wrong. Fleece it is. I basically need to know if it need to be sewn together first and how to do the corners.
October 4, 2007
0

found this helpful
Ok, then we are on the right page!
I didn't get how to do the corners either but I did buy one "no sew kit" and figured it out. I did but a square template that I used for other projects and that helps.
So you don't have to sew the blankets, they aren't going to unravel.
To make corners you take the length of your strips, say 4 inches, and cut OUT a square 4 inches wide at the end of every corner of the blanket. So you would have strips then a big cutout, but when you go to tie the strips the cut out part comes together. If you buy a square template, you can easily place the template as to whatever size you want and zip the rotary cutter and wa la!
By Cindy (Guest Post)
October 5, 2007
0

found this helpful
My daughter has made a throw and a blanket out of these. You just cut and tie. It is very simple, but very cute.
Cindy
By Terry (Guest Post)
October 5, 2007
0

found this helpful
Fleece blanket making can become addictive, my DIL showed me last Christmas and I make them all the time:
Take 2 lengths of fleece, same size and match together. Start at one corner and cut a 4X4 corner out(these make coasters later), start cutting 4 inch deep cuts thru both lengths and make about 10 of them, go back to beginning and start tying them together in a square knot, keep working along the edge, cutting a few, tying a few until about 4 inches from the next corner, cut off the 4X4 corner again and continue cutting and tying.
I work these on my lap while watching tv and they are so easy. The material is so forgiving if you make mistakes it is fine. I have made dozens of these and everyone who gets one loves it! Just relax and make blankets! When ever the fleece goes on sale I buy it up to have on hand for holidays, baby showers, wedding gifts etc!
October 6, 2007
0

found this helpful
Hi pm. My daughters made these blankets at youth. They just cut slits evenly about 10 cm from the edge all the way around (you could maybe round the corners off), and then they just tied them one by one working evenly as possible. Maybe you could get a friend to help work from one side while you do the other. I remember it is made with love and doesn't have to be precise! They didn't stitch it first. Hope that helps. Good luck. Susan from South Africa
By Pollegra (Guest Post)
October 6, 2007
0

found this helpful
What you do is get two pieces the same size and lay one on top of the other. Then carefully cut into both fabrics about 4 to 5" to create a sort of fringe. After cutting around the whole of both pieces then start to tie the bottom to the top no need for sewing. Enjoy.
By Mary Stewart (Guest Post)
October 10, 2007
0

found this helpful
YES, just line up your fabric to almost even and cut a 4 inch square out of the corner to start and cut 4 inch strips and tie. That is 4 inches up and one inch wide. Make sense? And continue to next corner until 4 inch mark to cut another 4 inch square out and so on. I really hope this helps. You can sew it first but you don't have to. Mary
October 10, 2007
0

found this helpful
If you hand sew or embroider, you can stitch around just above the strips that you cut to tie together, BEFORE you tie them, using ribbon, embroidery floss(all strands) and a long straight stitch for decorative purposes, although it is not necessary, in my experience to do so, as the tied fleece blankets hold together well without it if you do your ties firmly. I did one two xmases ago for my cousin's guy and he loved it. And its easy peasy.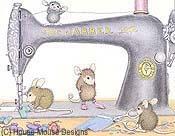 December 1, 2010
0

found this helpful
I have made several flannel blankets the same way that you would a fleese blanket, and the first time they are washed, there is a lot of threads that come off. After the first wash, they continue to hold up very well. My kids carry their flannel blankets everywhere.