September 22, 2008
0

found this helpful
Best Answer
Consistency is important. Keep her on a short leash when you take her for a walk, and when she pulls, give the leash a quick yank to return her attention to you. She should stay right beside you. Letting her go where she wants is not a good idea if you want a well-behaved dog. Maybe some obedience classes would help.
By Shelter Worker (Guest Post)
September 23, 2008
0

found this helpful
Best Answer
Spaying is important but it will not help with her training or lack thereof.
She gets distracted (ie doesn't obey commands) when there are other people and animals around because SHE is the alpha and she is protecting you. Dogs do not know stubborn. They are trained or they are not.
NO, that isn't cute. It can cause serious problems if and when she challenges the wrong animal or pulls in front of a bike or car. It isn't up to the world to watch out for your partially trained dog for you. That's you job alone.
When she misbehaves, look for any common themes...kids, other animals, bicycles, etc and focus your training to cover when those annoyances are present. You also need to be confident.
Victoria Stillwell has a few really good shows dealing with this as it's a super common problem. Treats as a distraction the second you see your dog starting to take off combined with a startling sound or her name if she responds is a great start. You can combine treats with a sit command or the like depending on your dog. If her trigger is more praise than food use praise. The treats have to be really good like chicken, bits of cheese, etc.
Also, the second she starts to pull give a somewhat loud and firm noise and turn around and walk in the opposite direction for at least 5 feet or so. She should be focusing on you when you do this. Then reverse again and go back in your original direction. Changing directions greatly helps keep the dog focused on you as she must pay attention. You might feel stupid but you have to stick with it. She'll get the idea pretty quickly but only if you're consistent.
You MUST build on her training so she comes when called particularly because of her size. It isn't just that other people don't need to put up with your dog; it's that they can very easily and through no fault of their own injure your dog or worse.
September 22, 2008
0

found this helpful
Spaying her will not help with distractions. All it does is keep her from making babies...period.
September 23, 2008
0

found this helpful
If you can, watch Victoria Stillwell on the Animal Planet Channel. Her show is called "It's me or the dog." Her work is brilliant and inspiring. She really understands dogs and knows how to help owners get their problems remedied.
I just saw a show where she helped an owner with a dog that was interested in everything else while out for walks, and by observation she was able to put the whole thing together brilliantly. Good Luck!
September 23, 2008
0

found this helpful
Hi,
Consistency, consistency, consistency. I do "with me" and use her name, short lease, if she gets distracted my trainer told me to turn around away from it until you get attn. back. Also, a trainer will help. Are you mating her? Spaying could calm her down just depends on her personality. If you are not breeding her then I would suggest to get her spayed. It is for her own good.
September 24, 2008
0

found this helpful
Use choke chain if you are not already using it. It causes some discomfort, which she won't like whenever she wants to stop and you are still moving.
By Linda (Guest Post)
September 24, 2008
0

found this helpful
Use a HALTI collar. She will not wander as the halti goes around her nose and you have the leash.
I dog will follow its nose. Also SPAY her immediately, before any accidents. A female can be spayed at 6 months.
September 24, 2008
0

found this helpful
Hi, Thanks for all responses, I really appreciate what everyone has to say!
1.) The HALTIi Collar seems like an interesting alternative, thank you. I will check more into this.
2.) For small dogs, collars and "choke chains" are NOT recommended. Since they are so small, this can crush their trachea. Roxy wears a small collar with a bell when we are in the yard, off leash only. This is only so I can hear where she is at when I am gardening. I will NEVER use a collar with a leash on my little Roxy. She is only 5.6 lbs and is a very small dog with very delicate parts. A HALTI collar may be a possible alternative.
3.) No Martigales for my small dog. Collars are totally out of the question.
4.) Consistency is what we do and she is improving.
I am not breeding Roxy. I became the proud owner of Roxy August 18th and she was 15 mnths by that time and just going into heat. She is almost completely done. Her estrous lasted longer than normal but that is finished and now we are just waiting a bit longer since my vet doesn't spay during heat or very shortly thereafter but Yes, Roxy is getting spayed. Contrary to popular belief, it is said that she will calm down some afterwards. Even since she is now over the estrous, her personality has become more affectionate and playful.
5.) I will try the Victoria Stillwell show, thanks very much!
6.) I do the quick jerks on her leash to regain her attention. Sometimes it works sometimes it doesn't right away. Sometimes she just doesn't get distracted in public at all. I am trying to figure out what it is when she seems to be choosing distraction over non distraction. She is usually sniffing and seemingly distracted when she needs to relieve herself. Not letting her go where she wants is very important and find that she responds better and holds attention for longer periods of time. The shorter leash works well for sure.
Thanks a lot for all your suggestions. I really appreciate it!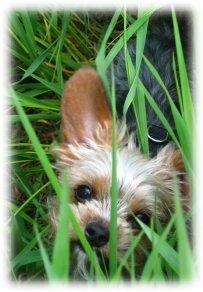 September 25, 2008
0

found this helpful
she is still a puppy learning and a YORKIE
I had one I adored and he had a mind of his own
he used to bolt out the door run around block after
peeing on someone's front door randomly
then come to front door and bark to be let in
once I did not open door for 5 mins and only
then did I open door boy he never bolted out again
her realized what a great home he had
just lots of praise when he does good
the dog I have now is shih-poo and loves
some banana and I call them naners and he goes
nuts so if he is out and I need him to do something
I give command and tell him naners, naners when
we get home and follow thru with treat
boy he does command well
he is not quite 2 yr and has learned a lot and
is loveable lil guy
good luck with yours