November 13, 2010
0

found this helpful
Use Google and do some research on purebred Dachshunds, I know that you'll be able to find quite a number of websites that will answer a lot of your questions.
November 15, 2010
0

found this helpful
Piebald doxies are white with other colors, brown, black, and I think red. They are more costly than the other doxies. Also, there are dapple doxies that are black and tan or red with silver markings throughout. Hope this helps.
Cheryl S.
November 15, 2010
2

found this helpful
The AKC doesn't recognize white doxies. That by itself really shouldn't bother you unless you plan on showing the dog, but this link to a reputable breeder has a lot of interesting info:
www.weatherlysdachshunds.com/genes.html
If I read it correctly, it sounds like the white dogs are produced by breeding between carriers of recessive genes. That may sound harmless enough as a way to promote the unusual white color, but what I found disturbing in the article was that all-white Dachshunds often also have a higher tendency toward blindness (the writer of the piece linked here also said that it's not uncommon for these white pups to be born WITHOUT EYES altogether), and other health problems.
Which has to make you wonder if the breeders throwing outrageous price tags on these unusual white pups are trying to make a quick buck to draw in buyers who want something "different"-- at the possible expense of the animal.
November 19, 2010
3

found this helpful
They can have white in them but I have never seen an all White Doxie.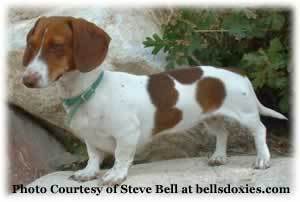 October 27, 2016
0

found this helpful
I am researching this artical because Olive my 4 yr old dashound just had puppies and one of them is in fact all white ...
It will be 5 more days before their eyes open. I'll hold out hope that this beautiful
baby has eyes AND can hear....
February 26, 2011
0

found this helpful
I have a hard time believing that a breeder would do this to a dog, just to make a few more bucks. That breeder needs to be unliciensed. It is cruel to do that to a dog. I saw a white doxie, and it was born with one eye. The girl that owned it paid $1500.00 for that dog. Along with the missing eye, she has had to take the dog to the vet for multiple medical problems. My question was why? There are beautiful dachshunds out there without having a freak of nature born and then charge outragous prices, esp, when it is not recognized by the AKC. JMHO Patti
August 6, 2017
1

found this helpful
My white and red had 4 white. And are all perfectly healthy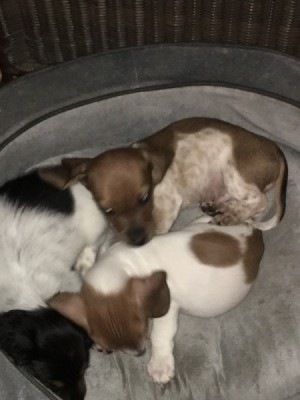 September 24, 2013
0

found this helpful
This my purebred albino dachshund she's 1 1/2 years and is in between a mini and a standard, she was an accident to be honest, but never the less I will explain how she came to be. Her mother is a dapple and her father is too, but her father is also her older brother so...
Yeah she's the second one that I've heard of and that's after hunting down the other online. if anyone knows of another please contact me at brandon.n.lee20 AT gmail.com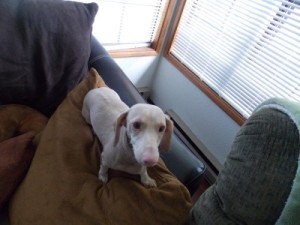 January 28, 2016
0

found this helpful
www.facebook.com/noddyensaartje
2 white Double Dapples; both blind & deaf.
April 6, 2017
0

found this helpful
Hi. This is Heidi. I had three doxie pups two days ago. This was unexpected one because my dog, Honey wasn't showing pregnancy till I found out she was the night before she bored three pups.
One of three is white. I am a bit worried about blind or deafness so I will have to wait till when she opens her eyes and ears. The father is black and tan and the mother is English Cream.
January 2, 2015
0

found this helpful
Hi there,
I'm from Holland and since December 2013, I've got a white Doxie too, named Noddy.
He's a Double Dapple and he's deaf & blind.
He and his (also deaf & blind) sister have their own Facebookpage: www.facebook.com/noddyensaartje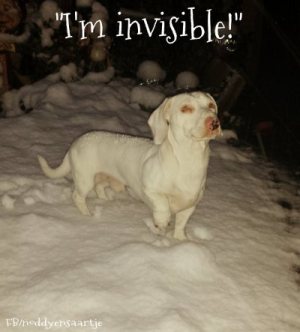 December 26, 2016
0

found this helpful
I have a White one, and the parents and siblings are Brown. It's a recessive gen, and vets doesn't recommend crossing them with white doxies.
December 21, 2017
2

found this helpful
Hi!! Just ran across this post. I too have a solid white double dapple with not a bit of any other color on him.
He is 100% deaf but full of love. He is 7 years old now. His name is Casper Meyer Wiener.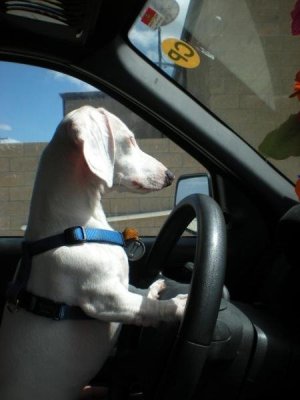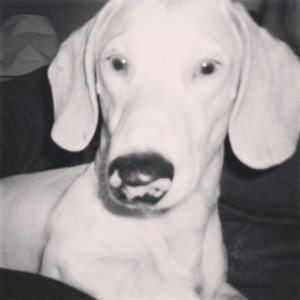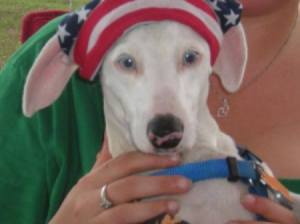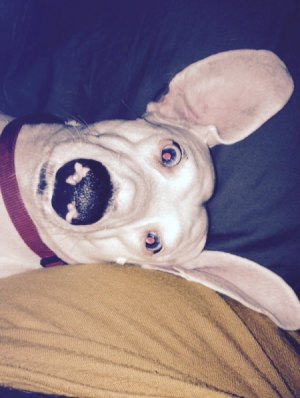 June 18, 2019
0

found this helpful
Your Casper Meyer Wiener is so cute!!!
I've never seen all white Doxies, and all of them pictured here, are all so precious.
December 30, 2017
1

found this helpful
It comes from people breeding dapples. You should NEVER breed two dapples, or really even a dapple and English Cream. Stark white doxies come from this and are prone to be dead, blind, and even missing their eyes altogether. You can however find lightly colored English Creams (clear creams) that are very pale, but not Snow White.
April 2, 2018
0

found this helpful
I have a white doxie. Shes all white with verly light brown spots. Dont know what her parents look like cause i found her at a pound.
June 18, 2019
1

found this helpful
Good afternoon,
I was reading up on all white dachshund puppies. My dame is in fact a dapple and the sire we bread her with is a ee-red. He looks more like a silk cream. We have papers on both dogs to ensure this fact. I've read up on the whole double dapple breeding and can't imagine someone breeding them on purpose. Anyways, sadly we ended up loosing two of the three all white puppies. The one pup survived because we had to rush her to the vet to do an emergency c-section. They were too large for her and it wasn't until after the first one was out and was having difficulty breathing we noticed her pushing out the other one. Which ended up being stuck causing him to die as well. It was a horrific experience and will most likely never breed her again. We only wanted to have a litter so she could experience motherhood before fixing her. Wrong decision on our part, but am happy to say we have a beautiful new addition to our family (Stitch). He is a week old today and is growing so quickly. She is a wonderful mommy and keeps here baby close by and clean. I just wanted to share my experiencephotos with you. I pray he has vision in both eyes and am pretty sure he can hear because my son yelled and the puppy jumped. Could've been a fluke, but I'm praying everyday that Stitch is healthy.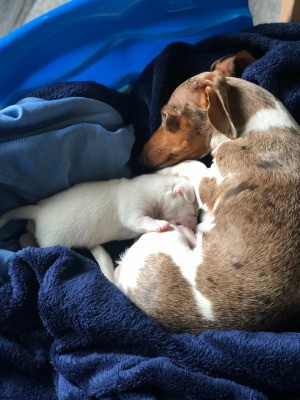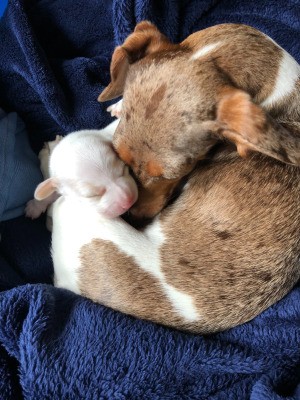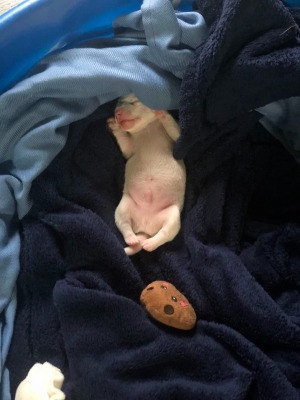 May 21, 2020
0

found this helpful
I will be bringing home a white Piebald Dachshund puppy (appears to be Albino because the eyes are red with some blue around them, pink nose squinty eyes.) We are also getting his sister who is brown and white Piebald with blue eyes. Neither of the parents are Dapples; mother is a blue eyed Piebald, and father a red. Our white puppy has a two big black spots on his hind end and a few dots. The breeder said he can focus, and other tests she performed he appears to have good sight.