This is our son Curtis and his pet raccoon Ronnie on one of his visits home.Curtis found Ronnie three years ago, abandoned by his mother on the side of a busy country road. Ronnie was very tiny and his eyes were barely open. Curtis kept him in his bedroom in a cat cage, bottle fed him canned cat milk replacement for a few months, then slowly intoduced him to dry cat food and leftovers from our meals. Ronnie blossomed into a very affectionate, mature raccoon who loved to explore our house and get into mischief when given the chance.
When Ronnie was getting older and more independant, we made a safe stall for him in our horse barn to live in. We kept him there until he was 2 years old (last summer). Our family is against keeping wild animals in captivity, so with great trepidation the day came last summer to set him free. For three weeks, we fretted and worried about him, and then one evening he appeared on our deck for a visit and handouts.
It's been a year now, and thankfully Ronnie has adapted well to the wild. We are always glad to see him when he drops by for regular visits every few weeks. One night he appeared with 2 raccoon buddies to share the handouts with lol.
The second photo was taken when Ronnie was about 4-5 months old. When he lived in our house, he loved to dig his little fingers into the soil in my potted plants. He also loved to climb into the bathtub after someone had a shower, to lick up the water drops. After setting him free, a few times in the late evening, Ronnie has climbed the cedar tree beside our house and scratched on Curtis' window to be let in for a visit. It amazed us how he knew where that window was. It sure made us realize that racoons are extremely intelligent animals. No wonder they can figure out how to open garbage can lids with their fingers. Easy peasy!
By ann from Goulais River, Ontario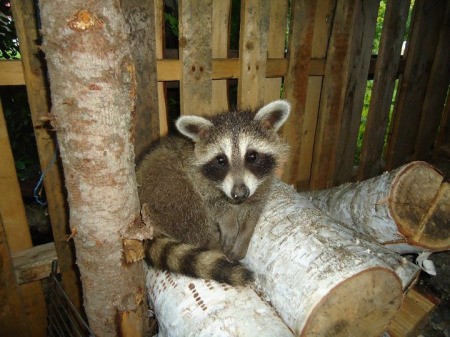 Read More

Comments