Breed Description:
French Bulldogs have broad skulls, pug noses and a compact muscular, barrel-shaped body. One distinguishing characteristic is their large bat-like ears. This breed has a sensitive and affectionate nature. They are alert and willing watch dogs and wonderful family companions.
Group: Non-Sporting Group
Purpose of Breed: Baiting Bulls
Country of Origin: France
Average Size: 12 inches and 22-28 pounds.
Color(s): French Bulldogs come in brindle, fawn, white and combinations of brindle or fawn with white. The skin is soft and fairly loose.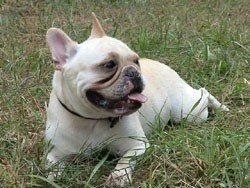 Coat Type: Coats are short, dense, lustrous, and soft. The skin is soft, loose, and wrinkled.
Grooming: French Bulldogs are average shedders and require weekly brushing. Standard care is required for eyes, ears, pads, and nails.
Exercise Needs: This breed does well in apartments, but needs a daily regimen of exercise to prevent obesity. The French Bulldog cannot tolerate high heat and prefers cooler weather due to its susceptibility to heat stroke. This breed does not swim well and should be monitored carefully around backyard pools and open water.
Temperament: French Bulldogs crave companionship and do not prefer to be left on their own. They are loving and entertaining and make good guard dogs. These dogs become deeply attached to their owners. At times they can be stubborn, jealous, and protective. French Bulldogs will hunt mice, and make excellent companions for the elderly and children. They get along well with other family pets if introduced properly. Like other bulldogs, French Bulldogs have the tendency to drool and can be heavy breathers.
Common Ailments: Prone to obesity, which can result in respiratory and intestinal problems.
Life Expectancy: Averages 10-12 years.
Trivia: Two features that distinguish the French bulldog from other bulldog breeds are their bat ears and half-dome shaped skull.
More Information: French Bulldog Club of America, www.frenchbulldogclub.org