I like to can certain things like jams, salsa, chili sauce, piccalilli, spaghetti sauce, etc. But canning a worthwhile batch takes a lot of ingredients and work. Sometimes the garden just doesn't produce enough produce for a big batch. I find veggies at a super price, but don't have enough cash to buy enough for canning.
I also find a smaller amounts at reduced price, but still high quality. Well, freezing them is the perfect solution. A few bags here, a few bags there and, before you know it, you have a large amount preserved for the winter and spring.
I have tried parboiling since it's supposed to preserve quality, and be safer. But, for some reason, no matter how well I follow instructions, I never have any luck with it. But when I do things the 'lazy' way, I get excellent results, and save time and work.
Tomatoes freeze well. I cut out the stem end and put them whole, unpeeled, in freezer bags. When they are starting to thaw, the skins pull of easily, like jackets. Chop them coarsely and throw them in the pot. They won't take quite as long to cook since freezing breaks them down a bit.
Today, I had a bag of mixed colors sweet peppers from a local market, and more peppers, mild and hot, from the garden. I chopped them up and froze them in quart size freezer bags so that this winter I will have a nice selection to cook with. I don't cram the bags full, but put in enough peppers to have a nice, flat bag. Then I press as much air out as I can, and seal them.
To use the peppers, I take them out and give the bag a good whack on the counter. The peppers, frozen solid together, break apart, and I can use as much or as little as I want.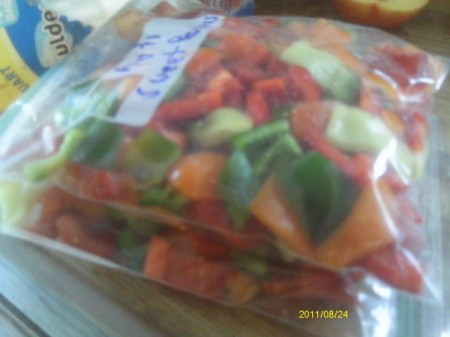 This week, I've frozen several bags of corn, peppers, tomatoes, and herbs. The herbs I put in little plastic containers that hold a couple of tablespoons, that I found them at a dollar store, 8 for a dollar. Freezer bags work well for herbs also. These are my favorite things to freeze, but other veggies do well also.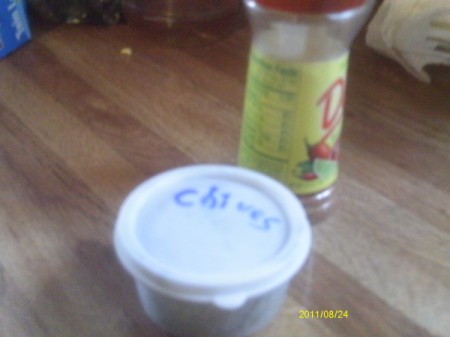 For fruits, I like to freeze cherries, berries, and peaches best. Then I have the fruit for pies and cobblers and crisps, or even a small batch of jam.
For several months, while fresh things are expensive, I will have produce frozen at its peak while at its cheapest to use when I need it. It's chopped or sliced and ready to use. By freezing things when I have a fairly small amount to take care of, it never seems like a big job, and by keeping at it, freezing things often, I end up with enough to make a difference all winter long.
Today I did a large batch of the easiest veggie I know of to freeze - sweet potatoes! I found them real cheap, and bought several pounds. I washed them and poked each with a fork a few times. Then I roasted them in the skins at 375 degrees F until done. I let them cool, then put them right into gallon size freezer bags still in their skins. Leaving them in the skin gives them another layer of protection from freezer burn, and makes sure they freeze in nice, separate servings.
Later on, when sweet potatoes are more expensive, I have plenty, ready to use. This is a real time saver. I get out however many I need for dinner, or for baking, and let them thaw. They warm up real quick in the microwave. I use fairly small ones.
I keep my frozen veggies on their own shelf in the freezer so that they come to hand easily. I love this since it seems to take almost no work, and never costs a lot at any one purchase, spreading the cost out throughout the harvest season.
Since I have a large freezer with my fridge, plus an upright freezer, I have plenty of freezer space. Since I have a tiny house, I have little shelf space, so this saves that space for things I prefer to can. So it's puts available space to its best use, and saves time and money. How frugal is that?
By Free2B from North Royalton, OH