April 2, 2009
0

found this helpful
My mom taught me how to crochet when I was a child (I remember making things in 5th or 6th grade). She didn't know how to knit, so was no help there. I'm recently learning on my own. I got a book called Kids Learn to Knit by Lucinda Guy and Francois Hall. The illustrations and written instructions are very clear, and I've had more success with this than the "grown-up" instruction books I've tried in the past.
I tend to agree that crochet will probably be easier to learn than knitting. But if you're interested, I think that you should pursue both (master one before jumping into the other). Because I've had such difficulty learning to knit through books, I feel a great sense of accomplishment now that I understand.
Good luck with your new projects! I hope you make beautiful scarves and blankets! :-)

April 3, 2009
0

found this helpful
It's funny, my Mom used to crochet like the wind. She always said it was easier than knitting and she tried to show me but I never could get the hang of it. Years later I tried again, but still no success. I decided to try knitting and I found I picked it up pretty quickly. I suppose everybody's different! I'd give them both a try, see which one seems best for you.

April 6, 2009
0

found this helpful
An aunt taught me to crochet when I was 8. My sister tried to teach me to knit when I was 13, no luck. A couple years later I taught myself to knit, at least the basics. I prefer crocheting, it is quicker.
I am 67 so have been at it a long time. Just remember to not do your work too tight, a problem I had for long time till I learned if that happened to use a larger needle. Good luck, it is a good hobby.

April 6, 2009
0

found this helpful
Why not learn to do both? I prefer knitting myself, but neither are hard to learn and you can then pick the one you prefer. It is all a matter of practice. Good luck.

cettina
Bronze Request Medal for All Time! 64 Requests
April 7, 2009
0

found this helpful
Hi. I do both knitting and crochet. Knitting is easier because there are only 2 basic stitches to learn but it grows much more slowly and can get boring. Crochet grows fast and you have to learn to keep your edges straight but once you get the hang of the stitches and the straight edges, you are fine.
I prefer knitting if I'm watching TV because I don't even have to look at it (unless its a complicated piece). I LOVE crochet because my projects are finished so quickly. Just my opinion.
Sometimes you will probably run across a knitted pattern you just have to make, and other times a crochet pattern you just have to make. That's why it is best to learn to do both.

Ariela
Bronze Feedback Medal for All Time! 107 Feedbacks
April 7, 2009
0

found this helpful
I was interested in knitting in my early 20's, I learned to put the stitches on then to single stitches. (I don't know the stitch names) My friend said I may like crocheting better so I tried it and loved it! It was so easy to learn and man I just went to to town on it. She was left handed and I cant imagine how I was able to learn when she showed me left handed.. my husband said.. *just to it backwards! With the 2 of them somehow I managed to learn. I still have the 2 afgans I made back then.
Once I learned to cast on the stitches and to make a single stitch the rest was history! I remember telling my husband *look I invented these stitches and I ended up with a blanket lol. Too funny. To this day I cant read a pattern. But I can still crochet.. its so easy and Once you get going you don't have to even look at the needle.. just go and
go.. till you reach a corner. I remember that being the hardest part, but somehow I taught myself how to make
corners.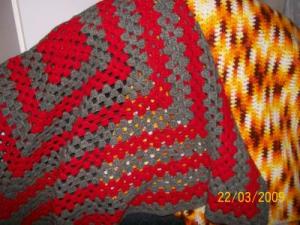 April 9, 2009
0

found this helpful
I do both, but decided to go crochet - why use 2 needles, when you can get by with one - the only knitting I do anymore is on knitting machines, and they still need crocheted to finish them, so why not start out crocheting in the first place and not have to set up one of the knitting machines?

April 9, 2009
0

found this helpful
I am 64 yrs old and at age 12, someone taught me to knit first, then taught me to crochet. Once you learn both, you will be able to decide to which one you will adapt to the better. In my opinion, crocheting is faster and is more versatile than knitting and through the years, I have learned from various people that learned to crochet first..have no interest in learning to knit but to knit first, then crochet. You have the best of both worlds.
Let's us know what you have chosen to do! Elaine aka myantoo

May 2, 2009
0

found this helpful
I definitely feel its easier to crochet. My friend though swears the knitting is. I can do both but I still feel crochet to be easier. At least for me it is. I recently started to crochet doilies with the string thread and its like learning to crochet all over again!

October 19, 2009
0

found this helpful
Personally, I think knitting is easier, but crocheting (which I do know, but I don't know as well) is more difficult but it is versatile and faster. Both take patience though, especially knitting. I finished up a hat with my crochet hook in a few days (I messed it up D:) but I haven't even finished a scarf in knitting (I got sort of bored of it, because it is so slow!)
PS: Might I also add, if you decide to knit, go to knittinghelp.com the girl is so good!
Use her easy cast-on bind-off and everything else. She has continental and English videos, so whichever style you chose you can use. If you knit I also suggest that you knit Continental style, if you get good at it, you can be really fast!
I have heard that some people knit squares, then they crochet them together. Personally, I think you should know both, they are very nice to know.

Cricket
Bronze Post Medal for All Time! 205 Posts
February 6, 2010
0

found this helpful
I, myself, learned to crochet first. But I've talked to many people who learned to knit first. Whichever you decide to learn first is totally up to you. Both are so much fun and very addicitive! Plus you can save a lot each year by making Christmas and birthday presents instead of buying them.
I don't know if you've thought of it or ever heard of it, but you might consider plastic canvas too. Here's a free website that has tons of project patterns in these 3 plus other techniques. www.freepatterns.com/
Welcome to the wonderful world of working with yarn!