Getting Rid of Bleach Smell
Questions
Ask a QuestionHere are the questions asked by community members. Read on to see the answers provided by the ThriftyFun community or ask a new question.
My brother recently cleaned a small chest type freezer with a very strong bleach solution. The smell of bleach lingers. What can he (we) do?
By annelle snyder from NE PA
Answers
December 16, 2010
0

found this helpful
Best Answer
Try rubbing the chest with lemon juice. You will need to leave it open for a few hours so it can completely dry out.
December 17, 2010
0

found this helpful
Best Answer
Put some charcoal from your BBQ in there and close it up. That should soak up the odor. You can still use the charcoal when you're done.
December 18, 2010
0

found this helpful
Best Answer
Try 1 tablespoon Bicarbonate Soda (UK) diluted in warm water. Wipe out the freezer with the solution. Leave the freezer unplugged and open for 24hrs. You can use BS safely and effectively to clean fridges and freezers. Detergents of any kind are not advised.
Bicarbonate Soda is also called Baking Soda.
December 18, 2010
0

found this helpful
Best Answer
Only way I know how to rid the odor of bleach from something is to rinse, rinse, rinse, rinse and rinse some more with water until gone. That might be difficult since it's winter outside and the most convenient way would be to move the freezer outside. But if you have an area where you could swing it, that's what I'd suggest.
Turn on the hose and blast that baby down. If it's taking a long time to rinse it out, let it air dry in between rinsing. While it is air drying, sprinkle it with baking soda. Then rinse again. Repeat until you do not smell bleach anymore. (I'd cover up my nose and mouth with a mask while doing this.)
December 18, 2010
0

found this helpful
Best Answer
I would wash the inside of the freezer with straight white vinegar. Let it dry naturally. After it dries, wait about three to five days and wash the inside again with plain warm water. The vinegar will neutralizes the bleach.
December 20, 2010
0

found this helpful
Best Answer
Just leave it open for about 48 hours in a room with good circulation. If the room is closed off, put in a small oscillating fan for same amount of time.
Answer

this Question

...
I poured bleach on some cement inside of my house. How do I get the smell out?
Thank you!
Answers
November 13, 2016
0

found this helpful
Best Answer
Never combine bleach and vinegar, even in small quantities.
Answer

this Question

...
How to I remove the smell of bleach in my sink?
By Nabeeha from Markham, Ontario
Answers
December 7, 2017
0

found this helpful
It is most likely coming from the drain. Run some water down it for several minutes.
December 7, 2017
1

found this helpful
Put baking soda down the drain to freshen it.
April 21, 2018
0

found this helpful
OMG putting coffee dose really work thank you so much
July 19, 2018
0

found this helpful
Eureka! Coffee!!!??? Thank-you oh clever one. I may just keep the house half-sain come wake-up time now.
Answer

this Question

...
I had my outdoor cushions professionally cleaned because they were too dirty for me to tackle. Now they smell very strongly of bleach. Is there any way to get the smell of bleach out of the cushions?
By Bea Healey from AL
Answers
June 1, 2009
0

found this helpful
You can rent an ozone machine (from a rental store). Just run it for 6 or more hours in a small room with the cushions. Ozone penetrates & removes odor without chemicals. An ozone machine can remove all odors from upholstery, fabric & rugs.
Before your do this you might first try using an odor neutralizer (like Febreze Vanilla. It has a very light scent) or put the cushions in the sun for a day, & keep flipping them over. The UV rays should help dissipate the bleach odor.
June 4, 2009
0

found this helpful
As one person already mentioned, if you expose your bleach "scented" cushions to fresh air and sunshine, turning them often, then try a bit of Febreze, you should be happy with the results.
February 25, 2016
0

found this helpful
do not mix febreeze on the bleach, that is what i did and ugh......i would use a carpet cleaner with water!
Answer

this Question

...
A whole gallon of bleach got spilled on my laundry room floor which is tile. I have been airing the room out and cleaning the floor going on 3 days and still the smell is there and the smell is going into my bedroom. Help, how can I get rid of the smell?
Answer

this Question

...
I washed my plastic persiennes with some stuff that has 5 percent chlorine bleach. Now I can smell it in the flat. Is there any way to neutralize that chlorine smell or do I have to wash the persiennes again?
By tomislav from Croatia
Answer

this Question

...
Solutions
Share on ThriftyFunThis page contains the following solutions. Have something to add? Please share your solution!
If you are using a cleaning agent (called White King or Demostos as used in Australia) containing a chlorine base (chemical name Sodium Hypochlorite), use white vinegar on your hands and the smell will disappear.
By Spoilground from Portarlington, Australia
Editor's Note: Sodium Hypocholorite is also commonly known as bleach.
Often the smell of bleach will remain in your laundry even after the final wash and rinse. There are products such as Anti-Chlor that you can buy or give, vinegar, baking soda, and airing out a try.
This is a page about
how to remove bleach odors from clothing
.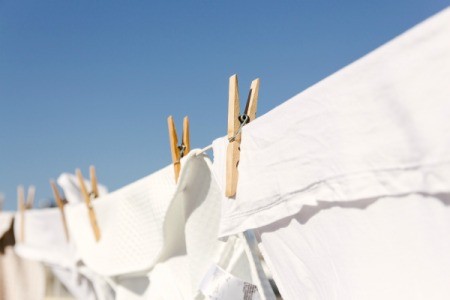 If you have had to use bleach to get your mattress clean, the bleach smell may linger for a while until it dissipates. This is a page about removing bleach smell from a mattress.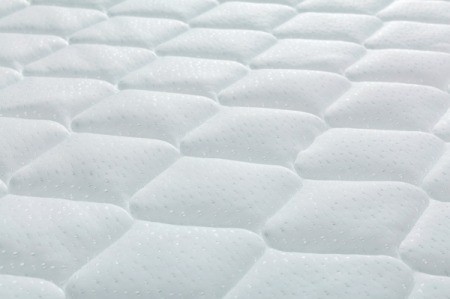 This is a page about removing bleach odors from carpet. Whether it is the result of a spill or a cleaning effort, the odor of bleach in your carpet can be quite strong and unpleasant.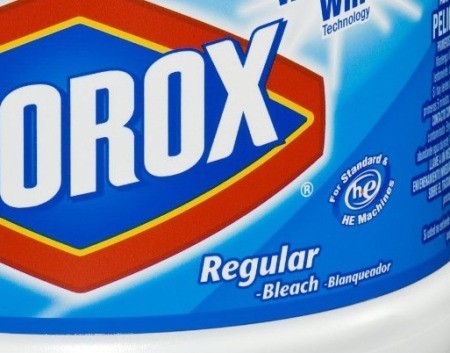 Archives
ThriftyFun is one of the longest running frugal living communities on the Internet. These are archives of older discussions.
How do I get rid of chlorine bleach smell from my basement? It is coming up into my house and we can't breath, I used too much to get rid of mildew!
Burdeno from Ohio

Answers:
Getting Rid of Bleach Smell
It should evaporate in 3 days as the bleach naturally decomposes and loses it's disinfecting power (02/09/2006)

By Debbie in SC
Getting Rid of Bleach Smell
It sounds dangerous to me. Chlorine is very strong and if it is making you sick, make sure you do the best you can to air out the basement and the house. If there are windows down there, leave them open for a few days.

If it is too bad, you may have to go somewhere else for a day or two.
(02/09/2006)

Getting Rid of Bleach Smell
I would try using vinegar to neutralize the smell. It is pretty good at doing things like that.
Sincerely, Karen in IN
Editor's Note: Although vinegar is good for getting rid of smells, it makes a toxic gas when mixed with bleach. (02/12/2006)

By jkmiller95
Getting Rid of Bleach Smell
Bleach and vinegar are on opposite ends of the pH scale. Here, I neutralize the bleach odor with white vinegar. Since the Editor noted toxic gas resulting from mixing bleach and vinegar, I'd recommend opening all the windows and doors. Place a fan, facing outward, at a window to draw out the fumes.

You might also try spraying the area with Febreze. I got the kind made for taking strong odors out of laundry. You can dilute it for other applications. Diluted laundry Febreze in a spray bottle works on all kinds of odors and was first used while house-training a puppy w/a short memory. (03/06/2006)

By gator
Getting Rid of Bleach Smell
I've just used Mr. Muscle glass cleaner which contains vinegar to mask a chlorine smell. The vinegar on its own can be as bad a smell as the bleach. (02/29/2008)

By Mildew hunter
Getting Rid of Bleach Smell
I put way too much bleach in our crawl space, what do I do? (07/22/2008)

By Guy
Getting Rid of Bleach Smell
I would place a fan pulling the air out of the crawl space. I would also use window fans in the house, one at one in pulling air out and one at the other blowing air in and close all other windows, that continuously replaces the air in the house. Then when the odor subsides I would put straight vinegar in a sprayer and spray the crawl space (put a wet rag over your face and work fast), and stay out of the house that day or as long as it takes to dry, leaving the fans on. Once it drys it should be ok. Always use vinegar on molds and mildew because bleach makes it grow back in a toxic form. A couple of bags of charcoal or clay cat litter will also help absorb the odor and toxic fumes. Make sure you get all the pets and people out of that house for now! (07/23/2008)

By Mattie