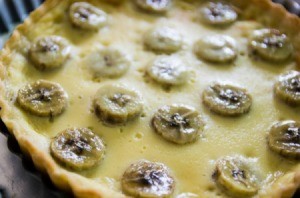 Does anybody have a trick to keep bananas from turning brown and watery in a banana cream pie?

Answers
November 19, 2008
0

found this helpful
Best Answer
Are you using cooked pudding? That usually makes the bananas react the way you describe. Try instant pudding instead.
Perhaps you are using a homemade crust. Make sure the crust is completely cool before using.
If you already use instant, try pouring a little pudding in your crust and then the bananas and then the rest of the pudding.
Are you making the pie days in advance?
Maybe you need to make it the day before or that morning.
The older the bananas in the pie, cut days before, the more they will break down and become brown and watery.
November 20, 2008
1

found this helpful
Best Answer
Eat it faster. Just kidding. In our house the pie lasts about five minutes so the bananas don't have a chance to turn brown. If I know the pie will not be eaten right away I coat the banana slices with lemon juice. Just pour a small amount of lemon juice in a bowl (enough so when you lay the banana in it, it covers the whole banana slice). Try not to get a lot o excess juice on the banana slice or the pie will taste too much like lemon.
By Barbara (Guest Post)
November 20, 2008
0

found this helpful
Best Answer
To keep the bananas from turning brown in our pie, dip the slices in a little lemon juice first. This will keep them from turning. Doesn't leave any lemon taste either. Love that Banana Cream Pie! Yum
November 21, 2008
0

found this helpful
Best Answer
If you don't have lemon juice, try orange juice.
By (Guest Post)
November 21, 2008
0

found this helpful
Best Answer
My family owned and operated a large restaurant for 50+ years. For our banana cream pie we used a cooked vanilla custard (kin to pudding), cooled completely, even sometimes chilled before assembling the pie. Line the crust with the sliced ripe bananas, then the custard, then the meringue or whipped cream (if you want an icebox pie). Bake briefly at high temp to set/brown the meringue. Let it "rest" at room temperature 2 or 3 hours before serving. The bananas permeate the custard and it becomes a banana cream. It has to be eaten same day, but if it isn't, don't leave at room temperature, as your pudding (surely made of fresh milk, eggs and butter) will turn. Bon Appetit!
By Erica (Guest Post)
November 21, 2008
0

found this helpful
Best Answer
I use a graham cracker crust, layer on sliced bananas and then put cooked home made pudding on top. I put another layer of sliced bananas on top of the pudding and those sometimes turn a bit brown--I dunk them in a small cup of lemon juice with water before putting them on. I use whipped topping on top of that so we normally do not even see the slightly browned bananas. I do not bake the pie at all.
Read More

Answers