Mitzi is an almost 3 yrs old Chihuahua.
Her favorite things to do are:
1. Be in the computer room when I'm on the 'puter.
2. Play with her stuffed orange bone. She likes to have someone toss it and then she runs to get it and shakes it around. The game is considered OVER when she takes the toy into her bed.
Mitzi was born on January 31, 2003. We went to pick her out from the breeder on April 15th (tax day - I'll never forget it!) She was still so tiny, only 9 oz., that the breeder wanted to keep her for a bit longer just to make sure she was eating o.k. We put our deposit down on her and went home to wait.
We were finally able to bring her home on May 5th. She weighed a whopping 11 oz. Her coloring is considered blue and white. Depending on the light, her darker coloring can look anywhere from black to a silvery black.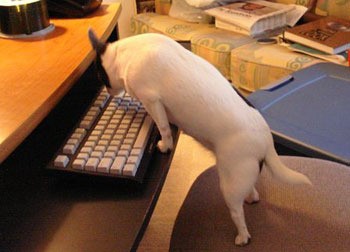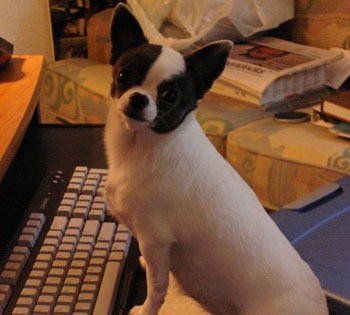 By Louise