Annie is 3 years old and is a purebred Ragdoll cat.
All my life I had wanted a pet cat, but I had never lived in a place that allowed indoor animals. Finally I moved to a house that allowed animals, and a friend gave me a book about cats, with photos and info about the different breeds. After reading all about the different kinds of cats, I knew that a Ragdoll would be perfect for me and my family.
We found a great breeder and drove all the way to Pennsylvania (we live in VA) to meet her and choose a kitten from her new litter. There are three little boys in my family, so the breeder knew that our cat would have to be lively and playful. She knew just the one that would be perfect for us, and after spending time playing with Annie, we too knew she would be the one for us.
Annie was by far the most outgoing (and beautiful!) of her litter, and even though she has calmed down considerably as she gets older, she still makes us laugh every single day, and is extraordinarily friendly, sweet, and loves to be held and petted, which are the famous characteristics that made me want a Ragdoll in the first place.
Annie enjoys chasing anything that moves (including my feet moving under the covers!), basking in the sun by the windows, and being wherever the family is. Whether that means watching a movie or playing a game, she is always in on the action! She also likes to relax and get her belly rubbed. Sometimes she will be laying quietly, and then someone will walk in the room and she will roll over on her back and start meowing, begging for a belly rub. She is very vocal! She also loves being brushed and lets you know with her abundant purring.
We chose the name Annie because since she is a Ragdoll, it reminded us of Raggedy Ann. The second picture shows her pretty blue eyes.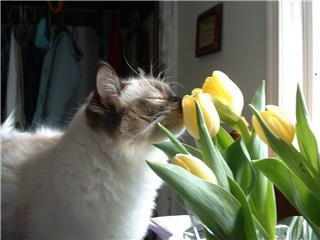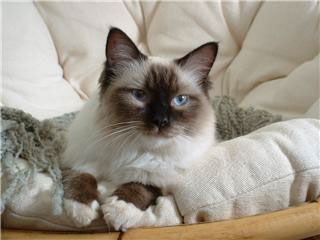 By Whitney from Culpepper, VA