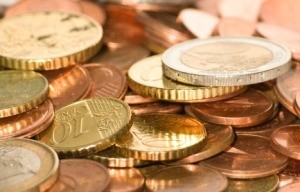 I love to make the best of what I find along the way in my lovely life in a little central European country. This year for various reasons, we didn't manage to plant much in the garden so my itch to put up preserves for the long winter isn't getting scratched as much I would like.
Yesterday, we visited a supermarket to pick up a few bits and pieces. On a bench outside, there was a guy selling tiny red, sour Ringlo plums for the giveaway price of 50 euro cents a bag. I thought "good for him, he got up this morning and needed a few pennies so he took the initiative, picked some fruit and brought them down here to give it a shot." We had no cash on us so I scrabbled around in the front of the car until I found some change. I dashed back to the guy and pointed. He filled a bag and I gave him the euro I had got together and walked away.
I heard a shout and turned around to see him chasing me across the car park with his basket. "Oh no" I thought, "I made a mistake, I haven't given him enough money!" How wrong could I be! He grabbed the bag and, grinning away, tipped the rest of the basket into it.
When I got home, I weighed my bargain and found I had 5 lbs. of tiny intense fruit. I dried some and made the rest into 6 jars of zingy, fruity jam. This morning, our neighbour came promenading through the village with her new born granddaughter. I ran out with a hug and a jar of the only just cooled jam to be greeted with smiles and rewarded with a sneaky peek at the swaddled baby.
Then about 10 minutes later, the neighbour popped across with a big bucket of freshly dug main crop potatoes. I know they will be delicious, they always are. There is enough to last us for at least 2 weeks. I still have plenty of jam to spread around my other friend and neighbours, if you will pardon the pun!
By ayesha christmas from Slovenia
Do you have a frugal story to share with the ThriftyFun community? Submit your essay here: http://www.thriftyfun.com/post_myfrugallife.ldml
Comments
August 14, 2012
0

found this helpful
Great story!
August 17, 2012
0

found this helpful
Really cool story. It's even better how neighbors share with one another.
August 19, 2012
0

found this helpful
Logged in especially to give your piece a thumbs up.
We live in Scotland and due to near-endless rain were unable to get much planted for a spring-summer-fall garden harvest. We've been going to the farmer's market and buying what we would usually have grown-we too have run into a few spectacular bargains.
Sadly, our potato crop here in the UK is going to be very small this year due to the weather, I'm so glad to hear that at least in Slovenia someone was able to get a harvest in:) Enjoy!
August 19, 2012
0

found this helpful
Reading this post touched me so. This person is a content, loving, giving person. Her attitude reflects so beautifully the "Do onto others as you would have others do onto you". way of life. How different our lives would be if this was the mind set of our world. Thank you so much for your post Ayesha. God bless you.
Read More Comments