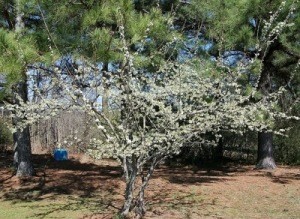 When I look at my plum tree I can't believe how it started out. I pulled up two limbs that had sprouted off of the big plum tree because my neighbors were cutting down the big plum tree and I couldn't let the plum tree just die out. It was on their land line by just a few feet and I was devastated when they cut it.
I'm not sure if my aunt or my sister (both had lived on the land at different times) had planted the tree, but it was at least 10 to 15 yrs old and had the sweetest plums that I had ever tasted. It would bear so many that sometimes the plums were so heavy it would cause the limbs to break. I moved on this the land in 1987. My sister had purchased it from my grandfather back in 1982. My grandfather gave my aunt her acre, next to my sister's, to build her house on. He wanted to help her out because she had three children and had struggled financially. He had one condition and that was to keep the land in the family name. She did so for awhile, but sometime after my grandfather's death, my aunt and her husband divorced and house and land were put in foreclosure. It went through three owners before I got the neighbors I have now.
The neighbors and I have for the most part agreed on most things. They mind their own business and I mind mine. They know that if they need me, I am a phone call away and they are always welcome in my storm shelter. They are from Illinois, I think, and from the moment they moved in they were not fond of the plum tree and that is how my little tree got started.
I had the 2 little sticks that I had pulled up and I put them in the ground and tenderly took care of them. One of the sticks was run over by the tractor and could not be saved. I did everything that I could do to make sure the other one survived. Finally after 8 years it started bearing fruit and it now has the sweetest plums. My patience and diligent care of my tree paid off. I know that 8 years is a long time to wait, but I guess good things in life are worth waiting for.
By Melissa
Read More

Comments
I live in San Diego and planted a dwarf Santa Rosa plum tree in January of this year. I dug the hole quite deep and planted the tree in steer manure, peat moss and gardening soil and also use a drip system.
The tree is alive, but I don't have any leaves or blossoms on it. I also planted tangerine, apricot, lemon, fig, cherry, lime, pear (the puppies brought this one up to us 2 weeks later, so I had to fence each one in) and an orange tree. They are planted in my canyon offset and I regularly baby them.
I bought the plum at Lowe's and it looks the same as the day I bought it! I've gardened for years, but never planted fruit trees. I would really appreciate any help on what's wrong!
Thanks!
Georgette
Answers

February 11, 2017
0

found this helpful
If its not self pollinating, then you will need 2 of the same tree for successful blooming and fruit.

Judy
Gold Post Medal for All Time! 677 Posts
February 12, 2017
0

found this helpful
It can take up to 3 years to see fruit.
Answer

this Question