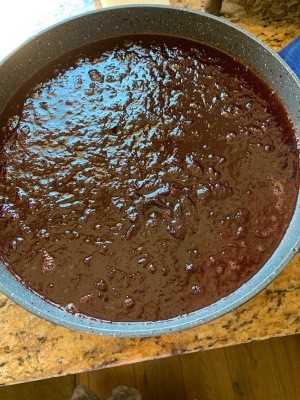 Slightly burnt taste and smell. Can I save by adding something?

Answers

August 18, 2022
0

found this helpful
Best Answer
I believe it will be difficult to remove all the burnt taste, but you may be able to add small amounts to outer foods and still salvage some of it.
BBQ sauce is probably the best bet, but be careful, only add small amounts before giving it the taste test.
I've read some suggestions that adding a little cinnamon helped, but I would caution you to only add a small amount before stirring and tasting.
Hopefully, you did not stir the bottom because that is usually where most of the strong burnt taste comes from.
Be sure to keep it refrigerated as much as possible.
One of my vintage cookbooks says to add several slices of potato, cook until potato is done, remove potato and enjoy! Who knows - it might work.
Answer

this Question

I scorched my apples for jelly; what can I do to get the burnt taste out?
By jo from Radford, VA

Answers

Lilac
Silver Feedback Medal for All Time! 450 Feedbacks
August 24, 2010
0

found this helpful
Nothing dear. You must throw them out. We all burn something now and then. The sooner they are gone the sooner you will forget it.

August 24, 2010
0

found this helpful
Sadly the scorched taste will not come out. Throw it out, it can not be made to taste like anything else but the scorched taste it has now. We all burn something every once in a while and it hurts when a whole batch of something, that was hard work to start with, is ruined.
Perhaps a lower heat such as a medium, and lots of stirring will save your next batch. Welcome to the 'been there, done that' cooks.

August 1, 2016
2

found this helpful
Don't throw them out! you can turn them into bbq sauce, hot sauce, base of a cake, add to cookie recipe, etc. I burned 11 lbs of peach preserves and made 1/3 into cinnamon peach preserves, another 1/3 into ginger-lemon peach preserves and the final third into bbq sauce. The bbq sauce was the winner!

September 24, 2021
0

found this helpful
I did the same thing to my orange marmalade. I searched the net and found out i can add lemon juice. And it worked!!!

June 13, 2022
0

found this helpful
I used lemon and cinnamon and it worked took out the burnt flavor thank goodness it turned a little darker in color after it burnt but was able to get the taste back
I learned a good lesson today

August 12, 2022
0

found this helpful
Would. You share your scorched peach BBQ sauce recipe?
Answer

this Question
I was making pear preserves and I let them stick. Before I knew it they had scorched. I changed pans, but they taste a little scorched. How do you get the scorched taste out of pear preserves?
By Aurelia from Greenbrier, AR
Answers

October 10, 2011
0

found this helpful
I don't know of a way to fix the scorched taste, but I would suggest eating it with peanut butter to mask the taste.

July 26, 2016
1

found this helpful
I made ginger pear jam and it scorched. Adding cinnamon blended well to mask it that no one has noticed at all.

September 18, 2018
0

found this helpful
Made a small pot of Plum Sauce, unfortunately, I turned my back for less than a minute... Needless to say that was enough time for it to scorch (it was on a low heat)
I took the advice and tried cinnamon, tried the result on my wife as all I could taste was the scorch, her comment was if she really thinks about it can taste the scorch very slightly!
I am very happy with the outcome as it is to be the topping on a Cheesecake... Thank you, Thank you, Thank you for the suggestion!
Answer

this Question

Is the solution for my scorched plum jam the same as I read about all other preserves, throw it out?
Answers

Judy
Gold Post Medal for All Time! 677 Posts
June 16, 2019
0

found this helpful
Use it to make barbecue sauce.

Pghgirl40
Bronze Feedback Medal for All Time! 196 Feedbacks
June 17, 2019
0

found this helpful
If the burned flavor has infiltrated the entire batch, you will probably want to throw it out, which is quite sad. The burned part isn't dangerous, just tastes really unpleasant usually.
If the top does not taste burned, spoon out the a little at a time, tasting (with a clean spoon) with each layer and use it for a topping over pound cake or ice cream.
Hopefully it will taste OK until you get close to the bottom, then there may be very little waste.
Blessings! PS be sure to keep it refrigerated until you use it all. It should keep for a few days in the refrigerator.
Answer

this Question