Carpenter bees (look similar to bumble bees) are making Swiss cheese of my house. I took up all my azaleas and other flowers, hoping the bees would move on, but that seemed to make no difference at all! Also, most of their holes are underneath my porch railing in an area too tight to get a shot into the holes with any kind of spray.
Every day there are fresh piles of sawdust all along under my porch railing. I tried using duct tape to tape squares of plastic (cut from milk jugs) over each hole, using a mirror to see the holes. I was amazed to see that they cut a nice neat round hole right through the tape and plastic. Any ideas?
I have resorted to standing guard with bee spray and flyswatter, taking out one bee at a time. Help!
By Debra
Answers
May 11, 2011
1

found this helpful
Best Answer
Try these traps ordered online. The carpenter bees were eating holes in my shutters. Wish I had found these sooner.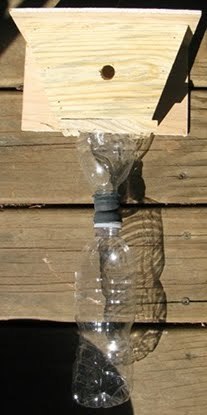 May 11, 2011
0

found this helpful
Best Answer
I used to have a large infestation of carpenter bees. This year this is only a handful. What I did was to put undiluted white vinegar in a spray bottle. Using the stream setting, spray vinegar into the hole until it runs out and then stuff it with cotton or anything that will plug the hole.
This year for the new holes, I am going to use the vinegar and instead of cotton I will use steel wool to plug the holes. The number of carpenter bees has diminished greatly. Hope that this year I will be rid of them entirely.
May 12, 2011
0

found this helpful
Best Answer
I read that if you just plug the hole, that they can bore on through. My husband puts a shot of ordinary caulk in the hole and it seems to work. I guess they can't take all that goo!
May 11, 2011
0

found this helpful
My husband said to put small pieces of steel wool in the holes. You will begin to see less of them. You may have to send in a small person under the porch to plug the holes but it will be worth it.
He was telling about steel wool to someone that had the problem out in the open so I'll ask him if there is another option. We had to call in a pest control company as I'm allergic to anything that stings. Good luck.
Read More Answers