July 26, 2009
0

found this helpful
Best Answer
Spent quite awhile surfing just now and can only find this site that 'might' be of help :-( Click on 'community' and see if there might be a place to post the photo and question there.
http://www.etsy … lated&page=1
It's difficult to say just how old this measuring cup is or who it is who made it without talking to a specialist or two :-( My guess is that it's from somewhere in the 30's thru 60's but might even be older than that.
You could also try going to the library and checking out all the available Kovel's books (new editions come out every year and Kovel's has been around forever and a day) that tells the worth of hundreds of vintage and antique items.
Another thing you could do is check out ebay and type in glass vintage measuring cups and/or glass antique measuring cups.
No matter what, it's a very cool looking measuring cup :-) Hope this has been of help!
August 10, 2009
0

found this helpful
Best Answer
My mom had a clear glass measuring cup that looked like that. I was born in 1938 and remember it as a child. So, I would say the 1940's. Try looking it up by date to see if you see something similar.
October 25, 2010
0

found this helpful
Best Answer
Actually, the cup is probably from around the 1900's. Cooks used to have measuring scales in the kitchen. My great grandmother had one. Recipes used to call for amounts in weight measures. It changed soon after that but in old recipe books they still call for weights.
July 26, 2009
0

found this helpful
This is the measuring cup I am trying to identify. I sent the pictures separately. I hope they came through. If not, let me know. Connie H.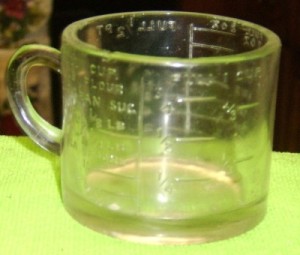 July 26, 2009
0

found this helpful
This cup is clear glass. Sitting on the green towel it looks like vasaline glass but it isn't. It's just a reflection. If you look close you can see the words "Flour & Sugar" written on the cup. You can also see cup, oz, & pint. The teaspoon & Tablespoon measures are lower down and harder to see in this picture.
August 8, 2009
0

found this helpful
Hi - nice cup - go to eBay and click on their "site map" (top right , I think). Look down right side and find discussion boards. Click on this and then look for one of the names that has glass in it. You may have to sign in or join? but this is minor.
Present your pictures and info to this board and you will get very good info. These people are experts at what they do.
October 7, 2014
0

found this helpful
I know this is an old post but I have the exact same cup! I found it when we were cleaning out my grandmother's house after she passed away and I fell in love with it. I'm wondering if it might have belonged to her mother. Has any more information been learned about it?