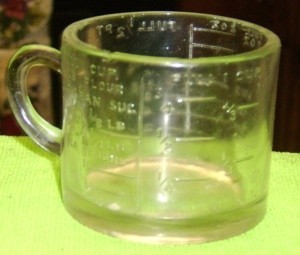 I have a glass measuring cup that appears to be very old. I have never seen one like it. Perhaps someone out there can give me some information about it.
It shows:
lb. measures, ex. 1/4 lb. flour or sugar (both written on the cup)
teaspoon measures
cup measures
oz. measurements
pint measurements
tablespoon measurements
It has no markings on the bottom of it. It stands 3 inches tall with no pouring spout. Can any one tell me anything about this measuring cup. A big thanks for reading this.
Update: This is the measuring cup that I am trying to identify. It is clear glass, not vaseline. The cup is reflecting the color of the towel it is sitting on.
By Connie Henry from Smithville, TN
Answers
July 26, 2009
0

found this helpful
Best Answer
Spent quite awhile surfing just now and can only find this site that 'might' be of help :-( Click on 'community' and see if there might be a place to post the photo and question there.
It's difficult to say just how old this measuring cup is or who it is who made it without talking to a specialist or two :-( My guess is that it's from somewhere in the 30's thru 60's but might even be older than that.
You could also try going to the library and checking out all the available Kovel's books (new editions come out every year and Kovel's has been around forever and a day) that tells the worth of hundreds of vintage and antique items.
Another thing you could do is check out ebay and type in glass vintage measuring cups and/or glass antique measuring cups.
No matter what, it's a very cool looking measuring cup :-) Hope this has been of help!
August 10, 2009
0

found this helpful
Best Answer
My mom had a clear glass measuring cup that looked like that. I was born in 1938 and remember it as a child. So, I would say the 1940's. Try looking it up by date to see if you see something similar.
October 25, 2010
0

found this helpful
Best Answer
Actually, the cup is probably from around the 1900's. Cooks used to have measuring scales in the kitchen. My great grandmother had one. Recipes used to call for amounts in weight measures. It changed soon after that but in old recipe books they still call for weights.
Answer

this Question

...
Answers
April 26, 2016
0

found this helpful
Maybe Anchor Hocking.
April 29, 2016
0

found this helpful
Definitely Anchor Hocking. I have old glassware with these marks, too.
May 4, 2016
0

found this helpful
I second "Anchor Hocking." (Image is upside down.) Just a tip for those that actually USE the vintage glass measuring cups: They probably are not tempered like modern ones. Sadly, mine shattered when I set a cold liquid filled one into a sink of hot water. It never occurred to me...until then. :(
May 12, 2016
1

found this helpful
I believe this is the mark of Hazel Atlas. I have a few like this.
Answer

this Question

...
September 24, 2011
0

found this helpful
I have a five cup measuring jar that has measured scales for liquids by weight, quart, pint, and gill and by tea and coffee cups. There is also dry measure (flour) by 1/4 pounds and ounces. It is also embossed with helpful advice, such as:
1 pound sugar makes 1 pint, 1 pound butter makes 1 pint, good milk contains 10% cream, etc.
It is pink and looks to be very old but in great shape. Any help with age and value would be appreciated
By vtech1059
Answers
October 31, 2011
0

found this helpful
Locate the mfg. stamped/embossed/label on the bottom of the measuring cup.
Do a google search using mfg. name with measuring cup. Go to the library and look through/order through them a book on that manufacturer. Seek an antique dealer to have them look at the item and give their opinion. I got a book from the library, and the author had their contact information in it. I was asked to send them pics of different angles of the item and they could tell me more about it. The author did contact me. Just another way of obtaining information through various sources.
Answer

this Question

...
May 15, 2011
0

found this helpful
I have a small 4oz clear glass measuring cup, with a spout. It has no handle and says Afga inside a diamond shape and made in America underneath.
Anyone seen one of these or know how old it is?
Thanks!
By Dawn
Answer

this Question

...