Alice is a 10 year old cat. I think she looks like a Maine Coon cat. I rescued her from an apartment complex where she was living comfortably but sadly in a safe, protected storm drain. That's why her full name is Lady Alice Maude Stormdrain, Countess of Kentlands. She likes to have her hair brushed.
By Jill from Just outside DC

Answers:
Alice The Cat
Alice is beautiful! You and she are lucky to have found each other. (04/10/2009)

By lavonneann
Alice The Cat
I do see some Maine Coon in the lovely Lady Alice. (04/10/2009)

Alice The Cat
I see all Maine Coon. I have one who is the spitting image, only she is completely black and white. From the pattern of her coat, to the tufts coming out her ears, she is a precious beauty! God bless you for taking her and crowning her nobility. At least you recognized royalty, LOL...

Laura
I will try to upload a pic of my beautiful Sadie, (04/10/2009)

By Laura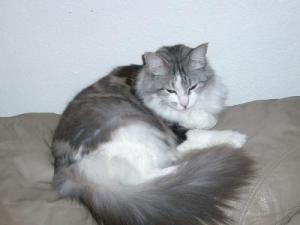 Alice The Cat
Lady Alice looks like a beautiful, large Maine Coon Cat. (04/11/2009)

By Janet
Alice The Cat
Thanks for sharing your pic of your sweet kitty Alice. I'll bet she doesn't miss her old home one bit. (04/11/2009)
By martie
Alice The Cat
She is so beautiful! I have a Maine Coon that looks similar. What a sweetheart! Bless you for adopting! (04/11/2009)

By MB Norton
Alice The Cat
Good job! I know she really appreciates you since she knows what the other side is like. I love to hear about people rescuing animals. Thank you for not looking the other way as so many others probably did when they saw this cat in need of some love and compassion. (04/11/2009)

By Beth
Alice The Cat
Thank you all for your interest in us. Alice also thanks you, but considers it only her due.
Laura, Sadie is indeed a stunner... and that tail! Oh my! Jill
(04/12/2009)

By Jill Groce
Alice The Cat
My beloved AllieMae was tortishell with Maine Coon and similar fluff

Lady Alice looks so REGAL , the color and setting of the photo is amazing
How blessed for both of you, many years of love and health to the both of you.

=^..^= (04/12/2009)