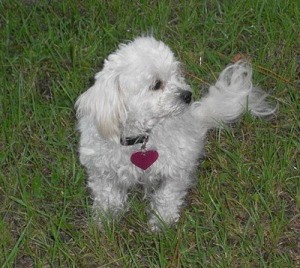 If your pet travels with you, like my little miniature Peke-a-Poo does, and especially if you live in the South, here is a tip that could possibly save your pet's life in the summer. I bought some of the little Gladware containers with the blue snap on lids that are about the size of a pudding cup. By filling them with water and freezing them, I have the perfect way to keep my dog hydrated without a mess.
They sit perfectly in my cup holder and the ice melts at such a rate that she has something cool to drink at any time during a trip into town. When she is through, I just snap the lid back on and set it back in the cup holder. If we are out of town, the container can be filled with ice from the hotel ice machine.
If you have a larger dog, you could fill several, freeze them, and add them to your cooler. They will cool what is in the cooler and be a replacement whenever one is empty. But please, hydrated or not, NEVER leave your pet in the car!
By Gloria Hayes from Darien, GA
How can I get my 6 yr old Shih Tzu to drink? I have tried chicken broth, mixed broth with her food, tried some milk in the water, and tried coaxing her with peanut butter. She won't touch it. I have had her to the vet 4-5 times this month. I am waiting for her second blood tests to come back. The 1st test looked like it might be kidney failure. She just threw up, and she will not drink anything. Not anything!
By Jacob's G.
Read More

Answers