February 5, 2009
0

found this helpful
This is a great idea but I'd like to know how you secured the gazing ball so it didn't blow away.
By Judi (Guest Post)
February 5, 2009
0

found this helpful
what is a Malibu light?
By Shirley (Guest Post)
February 5, 2009
0

found this helpful
Please let us know how he did this? How did he cut a hole in the ball? Shirley golden7673 AT yahoo.com
February 5, 2009
0

found this helpful
The Gazing Ball had a hole already in the bottom where it fit in the base it came with. Malibu lights are landscape lights for yards. Some are colored, green, blue, red, etc. Check at Do it center or OSH hardware, maybe Home Depot or Lowes.
Leonard just took the old plastic cover off and slide the ball over the light.Today he changed the bulb so it has a green glow tonight. Now he is thinking of finding plastic covers from old kitchen lights to use as covers and spray paint the inside so the weather won't run the colors off.GG Vi
February 6, 2009
0

found this helpful
Let me know if you need more info...I'll have him write out what he did. vij363 at yahoo.com
GG Vi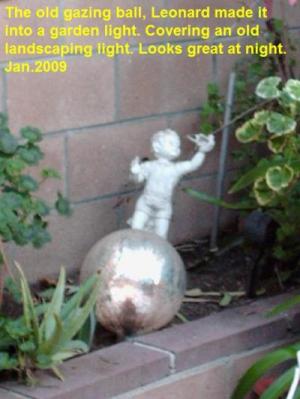 By Cariboo Lady. (Guest Post)
February 6, 2009
0

found this helpful
My neighbour has been making her own gazing balls for years. She saves and finds old glass light shades. Makes a foundation for them using cement. When she wants her yard lit up she places a tea light candle in them.
Her yard looks fantastic with them all lit up. when the the light burns out there is no mess to clean up. Just to replace the candle when she wants to light up again.
February 19, 2009
0

found this helpful
I really like this idea. I have an old gazing ball with the American Flag on it. To have a light in or around it would be awesome!
February 21, 2009
0

found this helpful
I do love this idea, the more I think about it. Our globe has the American Flag on it, after 9/11, with two patriotic chairs on each side of it. With a light in it, we can light it up at night, which we have never done, and also, instead of a malibu light, we could put an outdoor Christmas Light in it, during our very cold weather.
Oh, I love this idea, and my husband will love it, too. After several years, the flag is kind of coming off, but if I could paint it back on, and put a light in it, it would be even more awesome than it was when we first bought it. We leave this globe out all year long, but we could put a Christmas bulb in it, and make it shine even in Winter!
This is like Toby Keith and Lee Greenwood (whom I met) all wrapped up in one big beautiful globe.
Thank You, Great Granny Vi for such an inspiring, wonderful idea that I can use all year long--even at Christmas!
January 29, 2010
0

found this helpful
Is a gazing ball what we call in the U.K. a witch's ball? (a hollow sphere of glass hung in the window to ward off evil spirits) If it is, I am surprised that so many of you have them "lying around"
July 15, 2010
0

found this helpful
@ popet: Witch's Balls are different from gazing balls. Gazing balls were popular in Victorian times and are enjoying a renaissance of sort.
They usually have a mirror finish and are placed in the garden on a stand/holder. They reflected the surrounding landscape and invited one to gaze at them.