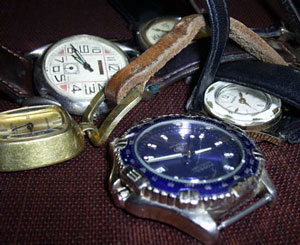 Reusing Broken or Old Watches
Here are some creative ideas for reusing old and broken watches from our ThriftyFun community. Post your own uses below.
Shadow Box Display
Get a shadow box picture frame and make a collage of watches, you may even want to add to them! Either hang them on the wall or use a plate stand to rest the shadow box on and display them on a table.
By Syd
Use Gears For Scrapbooking
Are the watches the old wind-up type? If so, take them apart and use the pieces for scrapbooking. Scrapbookers love to use the face and gears for pages about time, new years, etc.
By Cheryl from Missouri
Bookmarks
Take the bands off and attach a ribbon or nylon string for beads or just beads, or anything that you have handy, crochet yarn even! Make it in different lengths to use for book marks, works great and doesn't have to tell time.
By Fran
Use To Frame A Small Photo
If the clock works can be taken out, cut a photo to fit then screw the top piece back on (I think it's called the crystal, even if it's plastic?). Then you can either wear the photo watch in addition to a working watch or hang with a display :)
Use In Craft Projects Or Sell
Take the watches off the bands and hot glue them onto picture frames, like some people do odd colored and shaped buttons. It'll be something different and will definitely be a conversation piece!
Also, you could put them in a yard sale, there are all kinds of people looking for odd stuff to tear apart for what ever reason. Might as well make some money off them, if at all possible.
By badwater
Make A Pin Or Plaque
Last week a friend of mine set an unworking watch to 5:00, glued a pin back on it and gave it to a friend who's always saying "It's 5 o'clock somewhere." She was thrilled with it. He took off the band, of course. If you wanted to make a plaque with it, the band might be cute left on if it was the kind that opens.
By Jeneene
Numbers For Clock Face
I made a clock using a plastic plate, clock works from the craft store. For the numbers, I used 12 broken watches. Took of the bands and set them at 1, 2, 3, etc. and glued them to the appropriate place on the cloc, looked cute. Or to make multiple clocks, set the watches and photocopy them and cut out pics and glue to clock. Then you could adjust the size of the watch faces.
By Steamer
Exploded Watch Fashion
A friend of mine had a sweatshirt with watch pieces glued all over it, like a watch had exploded. It was cute, interesting. They used different colors of hot glue or fabric paint, if I remember right. There may have been different colors of paint spattered all over it; I don't really remember. Happy crafting!
By LizCar
Answers

March 22, 2007
0

found this helpful
I've made terrific jewelery from watch pieces, charm like bracelets and necklaces and earrings using the innter workings. Also the glass can be reversed painted and hung in groups as a suncatcher.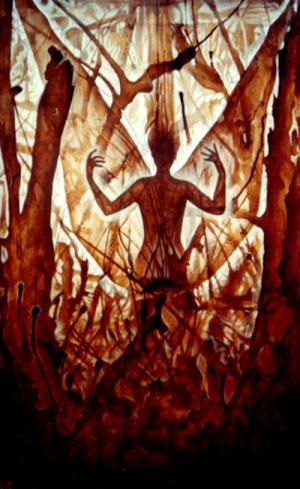 March 26, 2007
1

found this helpful
Use it as a clock in a dollhouse.
Answer

this Question