Making Homemade Foaming Hand Soap
Solutions
Share on ThriftyFunThis guide contains the following solutions. Have something to add? Please share your solution!
September 28, 2011
9

found this helpful
Just remember: do not use soap that is antibiotic; when it gets into our water it kills anything that grows. Also it apparently doesn't work; it has to be on your hands much longer than the time you spend washing them.
By wggmn3
Instead of buying foaming soap refills, try this: Buy one container of foaming hand soap. When it's empty, refill with 2 Tbsp. liquid hand soap for every 1 cup water. So simple, so easy, and cheaper. I haven't tried this yet, but I'm thinking the same recipe should work for foaming dish soap. I'll try it when my refill soap runs out.
You only have to buy foaming soap once! What makes the soap foam is the bottle, not the soap itself. Save your bottle and refill it with your choice of soap. What I do is dilute unwanted shampoo or soap/body wash.
I start with 1/3 of the soap, then add water. If I want a thicker soap, I can then add more, but it's usually not necessary.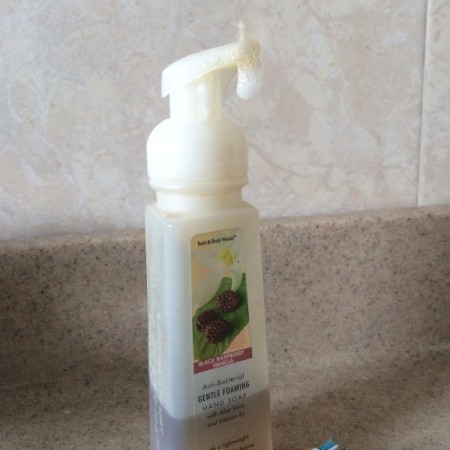 In the days of counting pennies, this will help if you buy the hand soap pumps like I do. Once that pump is empty, I make my own for pennies using 1 Tbsp. dish soap (any kind will do), and 1 tsp. of bleach. Fill slowly with water and shake gently. You have a great hand soap that kills germs for pennies, compared to buying new pumps or the refills for them.
Editor's Note: Many dish soaps contain ammonia, which should not be combined with bleach. Be cautious as this can create a toxic gas that could be harmful or even fatal.
---
Foamy Hand Soap From Bubble Bath. My son is always adding water to my soap dispensers. He thinks they are toys, I guess. One day, he poured bubble bath into my empty foamy dispenser and added water. Nothing came out, but I decided to try to add more water and (viola!) I had foamy hand soap.
Read More...
Questions
Ask a QuestionHere are the questions asked by community members. Read on to see the answers provided by the ThriftyFun community or ask a new question.
Can you make foaming hand soap from the regular bar soap?
Answers
May 6, 2018
0

found this helpful
Best Answer
I put the bits and pieces of used bar soap in a mason jar with water, let that set for awhile, and then refill my other liquid hand soap containers, some foaming and some not. I've found that adding a little bit of dishwashing soap like Dawn keeps it from getting slimy. Or you can buy a cheap bottle of refill liquid hand soap and add a few squirts to each container and the Mason jar every so often.
Answer

this Question

...
How do I make foaming handwash?
By pam kitchens from GA
Answers
February 2, 2010
0

found this helpful
You need to have the pump container that makes the soap foam. Put about one inch of shampoo or body wash into the empty bottle, then add warm water.
Don't fill to the brim, leave some room at the top. Put on the top and shake very gently, turning back and forth slowly a few times. Works like a charm for pennies.
February 8, 2010
0

found this helpful
You can buy a liquid soap foam dispenser for about $1.00-$1.60 from many of the liquid soap brands. Just buy one & refill the container with about 1/3 liquid soap (shampoo, body wash, whatever) & the rest water. I've been using the same one for about a year.
February 8, 2010
0

found this helpful
If you don't have the foaming container, buy one that already has foam soap in it. When that is finished, make your own with any liquid soap, shampoo or body wash.
The ratio of soap to water depends on your preference, and the strenth of the soap. However, 40/60 or even 30/70 is adequate.
It doesn't have to be antibacterial. Recent studies have shown that you just need to get stuff off your hands, and not necessarily by antibacterial agents. Let your man know that foam is just as effective to wash with.
Since it washes off faster, you'll save on your water and heating expense with foam. RVers and campers will appreciate this feature. A plus in drought-affected areas also,
If you want antibacterial agent, use antibacterial lotion or liquid.
Answer

this Question

...
December 18, 2004
0

found this helpful
A short while ago there was a tip for making a foaming hand wash. I did not copy this and now I'm asking for a request. But I also want to wish each and everyone a Merry Christmas and a Happy New Year.
Rudy from MA
Answers
December 19, 2004
0

found this helpful
Was it this one??
Answer

this Question

...
August 30, 2011
0

found this helpful
I am making foaming hand soap from a solid goat's milk base with added water. My soap bubbles with the foaming pump rather than foams. What can I do?
By Linda K.
Answers
August 30, 2011
0

found this helpful
Wow, I've never heard of such thing. Good luck with that one, bud.
Answer

this Question

...
Archives
ThriftyFun is one of the longest running frugal living communities on the Internet. These are archives of older discussions.
February 2, 2010
0

found this helpful
I would love a healthy way to make my own foaming hand wash. My daughter is OCD and washes her hands constantly. I am going through hand wash like crazy. I would like to save a few dollars on this one. Thanks. I'm new and can't wait for your response.

Terry from Fall River, Nova Scotia

Answers:
Homemade Foaming Hand Soap
You can use any liquid soap that does not have moisturizers in it, because it will clog the pump. The 5 water to 1 soap ratio is about right. I just guess when I fill mine. It is easier when you add the water first, and then the soap, I have done this for years. (01/30/2007)

By Jazzylazzy
Homemade Foaming Hand Soap
I think the most cost effective way to make soap is to find a good soap making supplier and make your own from scratch. If you use any bar soap, you can get melt and pour soap for about $2.50 a pound, a few cute molds and you have some really cute soaps. You can add fragrance and colors as well.

It would seem to me that if she is washing her hands constantly, you would need a soap with a moisturizing affect instead of alcohol which is very drying. I was reading today about the problems of the antibacterial soaps killing off good bacteria too, so you might take into consideration of getting rid of the antibacterial soap.

You can get some really moisturizing melt and pour soap bases and tons of ideas for making wonderful soaps. Adding a little toy, or surrounding a rubber ducky with soap. You will be surprised at all the molds and things you can do with the glycerin/melt and pour soap. Melt and Pour is easy to use. Get the chunk and cut it up into a bowl, stick it in the microwave until melted, allow to cool, and add fragrances and coloring. Pour into your molds and you are officially a soap maker.

Some places to look:
alcasoft.com
candleandsoap.about.com
wholesalesuppliesplus.com
soapersmarket.com
creative-wholesale.com
These are only a few of the links I have. You can find more by doing searches for soap making supplies. You will be amazed at how many soap makers there are out there making a living making soap.

For her condition, I really would recommend a moisturizing soap, no alcohol and naturally scented with Lavender Essential Oil, known for it's relaxing properties. I have used it to help me fall asleep by rubbing a drop on my temples.

If you need any more links, or help, I can point you in many direction. I am the printer for the Texas Candlemaker's Conferernce, texascandleconference.com and meet a lot of suppliers for soap and candles, essential and fragrance oils, and aroma beads. So if you need something please email me.
Please think about getting rid of the antibacterial soaps and alcohol and research shea butter soaps.
Sincerely.
Tina (01/30/2007)

By Tina Brown
Homemade Foaming Hand Soap
And if you need to clean the soap scum out of your foaming dispenser periodically, when you finish a batch of soap rinse with clear water, then fill with a bit of vinegar and lots of water, and send the whole thing through the squirter. It won't foam, but it cleans out the inside where you can't get, and your dispenser will work longer.
(02/01/2007)

By Denise
Homemade Foaming Hand Soap
This suggestion is not as frugal as the others, but it is tried and true. You can buy a Suds Pump from Pampered Chef. Go to pamperedchef.com and then choose your country, then go to products, then kitchenware and search for The Suds Pump. It only costs $9.00. (02/02/2007)

By Sarah, IL
Homemade Foaming Hand Soap
I use Dr. Bronners soap in a 1 ounce Dr. Bronners to 5 ounces water. I got a dispenser I can refill for my shower at foamair.com Lasts a long time between fillups. The kids just love to get clean now. Thanks for all this wonderful information. (06/11/2008)

By Betsy
Homemade Foaming Hand Soap
The ratio of water to liquid hand soap is more than 5:1. I tried that ratio and still found it to be too thick. I found that 7:1 to 10:1 works much better. I appreciate the idea of cleaning the foaming mechanism with vinegar and the idea of mixing the diluted soap with alcohol to enhance its antibacterial action. Bleach is incredibly antibacterial, but it's so corrosive that any metal parts in the mechanism would suffer an early failure. (07/25/2008)

By Jim
Homemade Foaming Hand Soap
I have actually made something like this; all I did was fill a water bottle with water 94% and soap 6% and shake for 30-40 seconds. Then just put it carefully in any soap dispenser. (08/31/2008)

By Mark
Homemade Foaming Hand Soap
Another option is buy a "Kandoo" soap bottle and use it up, then peel off the labels and use the ratios for your own soap. It's wider bottom makes it sturdier for kids and it's cheaper than the Pampered Chef version. (09/28/2008)

By Lisa
Homemade Foaming Hand Soap
1 quart water to 2 T liquid soap. (11/15/2008)

By Christy
Homemade Foaming Hand Soap
I use dish washing liquid to make my foam soap. A few spoonfuls and the rest water. This place sells the same bottle and foamer as Pampered Chef for 1/10th the cost. bottlesandfoamers.com (01/07/2009)

By Gina
January 30, 2007
0

found this helpful
Is there a way to make a homemade version of foaming hand soap as sold in the stores?

Linda L from Vista CA

Answers:
Big Batches
Find a smell you like in any kind of soap (dish soap, liquid bath gel, hand soap, baby soap, shampoo, etc.). I make mine in big batches so I don't have to keep making it when it runs out (the kids actually wash their hands now!). I get an old gallon water container add 1/10 soap, 1 bottle of alcohol (if you want anti bacterial), and fill the rest with water. (give it a couple of inches with just air in the bottle so you can shake it) Shake it. Refill your "foaming container" and store the rest for later use!-Misty (04/26/2006)

By Misty
Buy a Dispenser
I like the foaming hand soap as well and I make it on a regular basis. In order to get the soap to foam you need to purchase the dispenser (Wal-mart $1.99). Once you have used all the soap in it all you need to do is pour some of whatever soap you like and add water. I don't know the exact measurements but for the dispenser that I had 7.5 fl oz. it was about one part soap five parts water. I hope this helps. I also buy the refill jugs of soap. The kids love it. (04/26/2006)

By mcb5
My Method
When the gallon liquid hand-soap refill bottle is empty, keep it. Buy a full gallon liquid soap refill. Pour the amount you want into the empty gallon jug, add water, turn over until mixed. Use this dilution to fill the foaming soap pump. So much easier to have a gallon of ready made "foaming soap" on hand to just pour into the dispensers than having to mix it each time. (04/27/2006)

By kidsNclutter
Dispenser
The foaming action comes from the dispenser, not the soap itself. I purchased a commercial foaming bottle in the liquid hand soap pump dispenser section (I forget which brand, but there are several), and then for refills I use a mixture of 1/4 liquid soap (any kind will do) and 3/4 water. Don't use straight undiluted liquid soap because it will clog the foaming dispenser. (04/27/2006)

By Lynne
My Recipes
A combo bottle of shampoo/conditioner makes a wonderful hand soap! My favorite is Suave's 2 in 1 in the opaque green bottle but all those tried have been good; this one rinses off quicker so you save water.

Dilute by guesstament... about 1 part shampoo+conditioner to 4-5 parts of water. It mixes better if the water is warm but that's not necessary; few bubbles form if you add the shampoo after the water. For the foaming soap dispenser, the mix has to be 'thinner', like 1 part shampoo to 6+ parts water.

Marbles kept in each dispenser make mixing easier... the clear ones here were found in the crafts section of WalMart.

Ordinary dish detergent concentrate also works well; just dilute it more. In the kitchen, just for dishes, one dispenser has a lower ratio of water to detergent or shampoo, like 1:3-4.

The 'thinner' the mix of detergent or shampoo will be the easiest and fastest to rinse off. (05/07/2006)

By gator10tx
Germs
To those who are put off by the 'germ' post. I work in health care and have to say... ALL soap kills germs. You don't promote growth of e.coli or salmonella by cutting your soap with water. Unless you've put salmonella or e.coli carrying objects INTO the bottle/water, you are fine. Major water supplies have CHLORINE in them to prevent that kind of growth.

If you are very worried, just add 1 or 2 DROPS of chlorine bleach to your mixture. It WILL keep any germs from populating your soap, IF and only IF you are worried.

Scare tactics to keep people from saving their hard earned cash...how quaint. (06/28/2006)

By Julie-Health Care Professional
About Soap
Yes, SOAP is naturally antibacterial. I.E., real soap that is made from water, fat and lye (sodium hydroxide, NaOH). However, correct me if I'm wrong, but liquid "hand soap" is not soap, but a detergent. And detergents are not naturally antibacterial and require an additional agent (like alcohol or bleach or Triclosan or Chloroxylenol, etc.) to be so.

And regarding that post about E coli and salmonella in the water... If you're on a municipal water source in developed nation like the United States, you DON'T have to boil your water. Please don't spread bad information and fear about our water for those of us fortunate enough to have it? You have the absolute BEST in the world! (08/10/2006)

By Heather, one-time home soap maker and non health professional
My Recipe
I also make my own foam soap refill: 1 part liquid soap, 2 parts HOT boiling water. Make sure you cool BEFORE you put it in your dispenser! I use CLEAR liquid hand soap as the creamy ones clog the dispenser. I haven't tried baby shampoo yet, but I am sure that will work great too! (12/04/2006)

By momofthree
Liquid Soap
Liquid soap can be real soap; it is made with potassium hydroxide rather than sodium hydroxide (lye). Potassium hydroxide has bigger molecules and thus, the soap remains in liquid form; paste usually I think, which is "thinned" with distilled water. Just began studying making liquid soap; been making cold-process lye soap for 3.5 years now. (12/30/2006)

By Cheryl
August 5, 2005
0

found this helpful
Click to read more ideas from older posts on ThriftyFun.
Read More...
Related Content