When I brush my Havanese, it brings up a lot of flaky skin. What should I use to stop this?
By Michelle from Covington, WA
Add your voice! Click below to answer. ThriftyFun is powered by your wisdom!

July 10, 2009
0

found this helpful
I had to get a moisturizing 'natural' type dog shampoo from our local feed store, and it works great for my husbands Walker hound.

Judi
Bronze Feedback Medal for All Time! 239 Feedbacks
July 10, 2009
0

found this helpful
There is a suplement that you pour over the food and it comes in pills (I think). I can't remember the name (been out of the business too long!) but your vet or receptionist will know. Some people just pour bacon grease or some other oil over the food but these vet recommemded products have vitamins also.

Cyinda
Bronze Post Medal for All Time! 213 Posts
July 10, 2009
0

found this helpful
I recommend putting a little Emu oil on his skin after he's been bathed. Emu is extremely healing, In fact many Naturopath use it for abrasions etc. It doesn't turn rancid like most oils do. It's used for humans with eczema. I sell at a farmers market every Saturday. For years there was an Emu oil booth next to me & they always had a long line at their booth to buy their emu oil (until they moved to California). I talked to several repeat customers & they all swore by it (for many skin conditions). My daughter swears by it to keep her face young & wrinkle free. It's the ONLY oil that actually penetrates down into the skin & doesn't just sit on top. A little goes a long way. I buy their smallest bottle & it lasts a whole year (for my face). Emu oil can also be added to his food.
Here's their website:
www.wonderoil.com/emu_oil_home_page
When you go into their web site, click on "Testimonials" & "Applications" & "Research". Their web site is very informative. You can also call them & ask questions:
1-866-695-8994
* Tell them that the gal who paints the Botanical Pottery & Tiles (from WA.) told you about them. They will probably send you a small sample if you ask (& pay for postage).
PS. Your dog may also be allergic to something in his food:
* Since you live in Covington (I lived in Kent, WA for years). Go to: Mud Bay Granary at 10457 SE 240th St, Kent - (253) 859-5818 or call them & ask them about your problem. (in the same parking lot as Value Village in Kent (by the East Hill, Kent Post Office) Salmon Oil also works wonders & you can buy this & Emu oil at Mud Bay. (It's a wonderful pet store, with great prices, informative employees & about a dozen types of organic, composting cat litter!)

July 13, 2009
0

found this helpful
Make sure the dog is on a high-end dog food that has Omega-3 fatty acids as an ingredient; also, bathing (unless the dog has gotten into a mud puddle or something in between) really only is necessary once monthly, unless under vet's directions with a medicated shampoo more often.
Generally, using something like a bland oatmeal-based, specifically made for canines shampoo is easier on the skin. Never use people shampoo, even baby shampoo.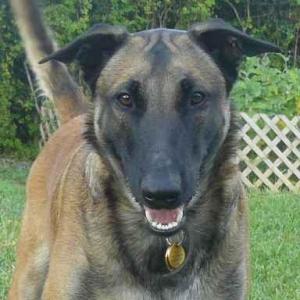 July 13, 2009
0

found this helpful
If the first ingredient in your dogs food is corn, change brands. Make sure corn is not the first ingredient. Our German Shepard had the same problem. When we changed food, his coat was beautiful and flake free.
Add your voice! Click below to answer. ThriftyFun is powered by your wisdom!
My dog Pekingese dog, Ginger has dry dark flaky skin. When I brush her it seems to get everywhere in her fur, but never goes away. It is almost part of her skin color. Any suggestions?
Shirley from Lincoln

Answers:
Dog with Dry and Flaky Skin
My dog, a Shih-tzu, had a flaky skin problem for a while with a lot of itching, licking, and scratching. We never had her tested for allergies, although that's usually the first thing everyone recommends. I figured we'd try to start with the easiest solution before I test her for allergies. So we ended up getting a shampoo (Malaseb) from the Vet and it seems to really work for her. We have to bath her often (1x week) with that shampoo. I actually thought bathing too often would cause problems, but with the right shampoo it helped significantly. Good luck. (01/28/2008)

By khilde
Dog with Dry and Flaky Skin
For our Black Lab it was a preliminary sign of a thyroid condition, so maybe discuss it with a veterinary. (01/28/2008)

By missl
Dog with Dry and Flaky Skin
We have dogs that are notorious for skin problems and they have never had a problem, they have been on Eukanuba since birth. Its a more expensive dog food but worth it, as you don't need to add anything to their diet. Since your dog is small, a bag of food will last a long time. It probably will take a few months on this diet before you will notice any difference. Good luck.
Sally G. (01/28/2008)

Dog with Dry and Flaky Skin
Try giving your dog coconut oil. Since your dog is small probably 1 tbsp. is good per day. They love it and lick it right off the spoon. You can also rub it on her dry skin. Give it about 2 weeks, you should see a difference. (01/29/2008)