I am helping my young granddaughter-in-law learn how to cook. I know she will come over one of her days off and I think ahead to what she might enjoy eating that would be good for her. I get the ingredients before hand, and when she's settled in for her visit, I suggest we have tea and whatever is the planned dish. Sometimes it's oatmeal raisin walnut cookies, sometimes it's a dinner dish.
I give her simple tasks as we assemble the food, and as I cook from scratch, I explain what I'm doing as I do it, and what are other alternative ways of cooking the dish I've tried over my lifetime, and how it worked out, or didn't as the case may be. She's learning at a mellow pace, which is good, since I tend to overdo 'teaching' and I always send her and my grandson home with something nice, tasty, and healthy, that is slightly different than they would have, just for variety.
All of my grandsons cook well.
By pikka from Westminster, CO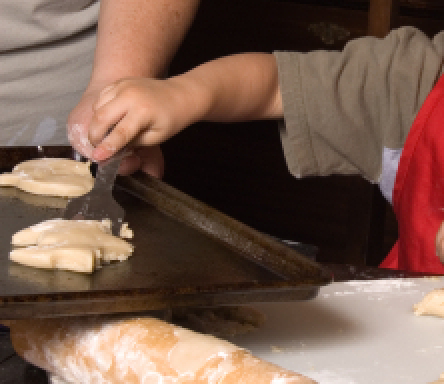 Add your voice! Click below to comment. ThriftyFun is powered by your wisdom!
May 16, 2009
0

found this helpful
I sure wish I had someone like you around even now I would love to know someone willing to teach like you do.
Wonderful!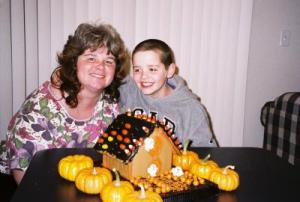 May 18, 2009
0

found this helpful
When we had more money, I had great success in teaching any child who visited overnight and hated veggies that if they
would trust me, I'd teach them a way they'd love the veggies
from which I gave them a choice. The one thing I coaxed them with was, "You have only tried them canned. They are totally different and you will be so amazed at the flavor of fresh veggies!" I'd always start with beets, washing well, cutting only the greens off, saving for another day. Washing well, then choosing the smallest and boiling whole until the skin can fall off. THEN we cut the stem and root off. It saves the color, flavor, and when buttered and sliced thin, it is lapped up, smacked, and fought over! I hope try this and that you can be so successful that you will then "graduate" to a repeat performance choosine mini-
veggies if you can find them, usually at a Whole Foods Mkt. Remember to add a pinch of sugar to most veggies to enhance the flavor and desire for whatever you choose to cook.
I NEVER condone "frying",messy recipes, sugary things,breads, or pastries first, because I believe the shock factor is better when you go straight to where the child THOUGHT it might "hurt/ taste awful" but is so wonderfully pleased that they can't wait to tell their family members both that they learned how to cook and how much they love FRESH beets.
Don't suggest mixing veggies in one dish until they are teens. Keep hands clean from the beginning, and wear aprons! Emphasize safety, cleanliness, and to focus.
Let them do as much as possible, but not remove hot beets from the pan, or slice the round hot veggies outside of a dinner plate with a paper plate on top to help prevent rolling, falling onto the floor. God bless and help you. : )
Add your voice! Click below to comment. ThriftyFun is powered by your wisdom!
May 15, 2009
0

found this helpful
By Ronald Yip
If you're ready to teach your children how to cook (with kid recipe), here are some simple tips for teaching them the basics, and giving them skills that will last them a lifetime!

First of all, think safety. Any child that has to stand on a stool or chair in order to reach the stove is too young to cook. Start younger children off by letting them help set and clear the table, gathering ingredients, and stirring, mixing or adding ingredients.

Next, set rules about handling knives and other sharp instruments and handling hot pans or boiling ingredients. Some parents start teaching their children to cook by showing them how to make things that don't require cooking first, and then graduating to letting them make food in the microwave.
Create a relaxed atmosphere that is fun when teaching your kids to cook. Remember what it was like when you were learning to cook? Chances are, you made a few messes and broke a few dishes. It happens. Learning to cook should be fun, not drudgery, although there are certain responsibilities that go along with the privilege, such as cleaning up as you go along, and leaving the kitchen clean when you're finished.

Start with the basics. Show your kids what the different utensils are used for, and the right way to use them. Teach them about herbs and spices, and using the right ingredients for the right dishes. Cooking is a great way to learn fractions and chemistry, and your kids might not even realize they're learning while they're having fun!

Begin with simple kid recipe that include step-by-step instructions and pictures so kids can see what something's supposed to look like while they're assembling the recipe...let success build on success.
Give your kids a chance to shine. As they learn to cook more complicated recipes, let them be responsible for planning -- and cooking lunch or dinner one night. Letting your kids plan the meal -- and even shop for the ingredients will help them to realize and appreciate the effort that goes into cooking.

As your kids become more skilled, begin including foods from different cultures. Many recipes such as French crepes or Italian lasagna are not difficult to make, and your kids will develop an appreciation for many different kinds of food.

Especially for younger children, having tools that are their own size not only make cooking more fun, but make it easier for them to participate. Kid-sized kitchen utensils can be found at many department or specialty stores.

Make sure you take plenty of pictures -- you may not realize it now, but you're making memories that someday will be as delicious as that batch of chocolate chip cookies you're baking now!

Make fun and delicious kid recipes with your family!

About The Author: Ronald Yip is an electronic engineer by profession. He became active in internet marketing since 1999 and also has a passion for cooking.
Please visit Recipes Lovers.- http://www.recipeslovers.com for more information and articles on recipes, cooking tips and all about food.
Answers:
How To Teach Your Children To Cook
if you look under recipes, there are some great recipes from the Pillsbury Alpha-Bakery cookbook on this web site. The recipes start with the letter A and go to the letter Z. These are great kid friendly recipes designed for children (02/25/2006)

By Anne