Gardening With Children
Solutions
Share on ThriftyFunThis page contains the following solutions. Have something to add? Please share your solution!
Gardening is so good for the soul and the only thing better to watch than something grow that you planted by seed with your hands, is to watch the look in a child's eyes when they see something they planted grow. Gardening is a natural for kids. Digging in dirt, being allowed to get dirty, wonderment and excitement, doing something with their own little hands. Well, need I say more?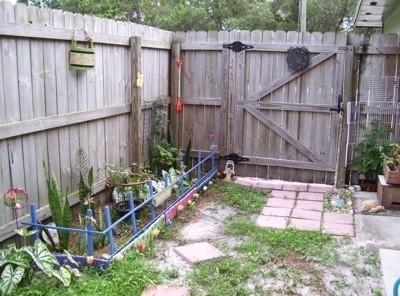 My grandchildren love Grandma's back yard. I converted a shed into a potting shed for them and, needless to say, we spend a lot of good times out there. I bought them their own little garden tools, finding them at dollar stores and thrift stores. Seeds are very inexpensive so they tried growing several things. Pumpkins, watermelon, tomatoes,string beans and squash.
Plants such as coleus, ivy, and philodendron are fast growing and easy to care for plants which make them great for kids to grow. Every time they spend time with me, they rush out to the yard to see how much their plants had grown and enjoy watering them in the process.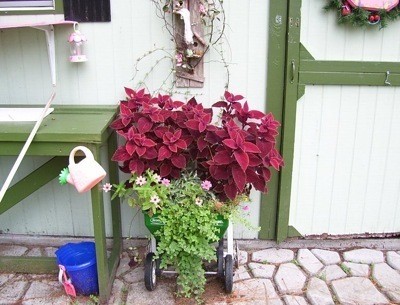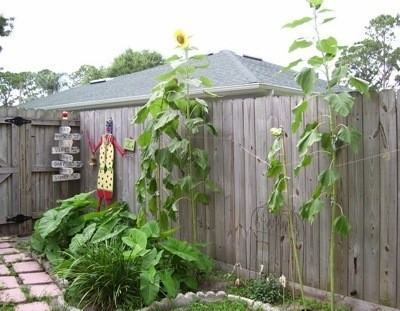 But, the greatest plant for them was the "Mammoth" sunflower and I recommend this to anyone who wants to garden with kids. They planted them by seed and they grew rapidly. We had no pest problems and they soon reached 9 feet tall. My joy comes from the look in their eyes as the plants grow and it is so much fun gardening with them. Try it with a child and you will plant many wonderful memories!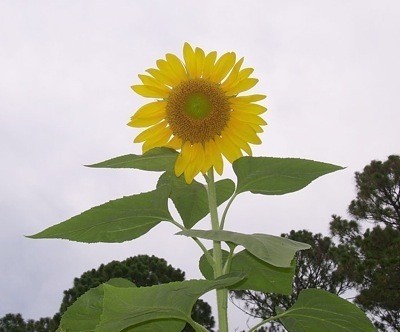 By Mary from Palm Coast, FL
Read More Comments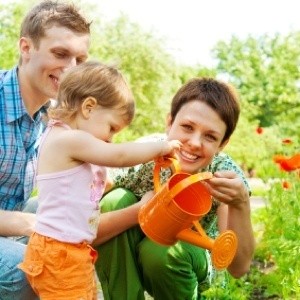 Whether it was from a parent, a grandparent, a neighbor, or even a teacher, people who garden as adults were usually exposed to the positive aspects of gardening when they were children. Studies show that children, no matter how small, can benefit socially, physically, and academically from participating in gardening. Here are some helpful tips for getting (and keeping) small children engaged in gardening.
How Kids Benefit from Gardening:
It's easy to see how gardening teaches children patience, responsibility, nurturing, and gives them a sense of pride in their accomplishments. According to the National Garden Association, gardening affects children in even more surprising ways. Research shows that children who have access to gardens in their classrooms:
Score significantly higher in science on achievement tests.
Demonstrate better social skills and behavior.
Have a greater appreciation and respect for nature and the environment.
Work better in groups and have a greater understanding of self.
Show an increased interest in eating fruits and vegetables.
Have more knowledge about the benefits of healthy nutrition.
Eat more fruits and vegetables as teenagers.
Develop skills that will help them be more successful in school.
So what about children too young to be in school? They benefit by gardening, too. We all know that a child's early years are a crucial time of mental, physical, social, and emotional development, and that educational experiences during these first years significantly influence the rest of their lives.
Tips for Gardening with Small Children:
With small children, go with the motto "Simple is Best." They have an extremely short attention span and need constant supervision. Keep the space where kids engage in gardening small (e.g. a paper cup, a small window box, or part of a row). Have a few simple activities planned ahead of time (digging for worms, planting seeds, picking flowers) and be prepared to swap them around according to the child's mood.
As children develop in age, so do their imaginations (think tree-forts, fairies, and secret gardens). Let them act out garden dramas through creative play. For example, the life cycle of a butterfly might be acted out through a dance, or by painting a picture or by making up a silly song.
Young children learn best though repetition and practice. When teaching them new gardening skills (like how to use a watering can or how to plant seeds), avoid criticizing and over-correcting them. Instead, teach with encouragement and enthusiasm. Then give them plenty of time and space to practice under more relaxed standards (e.g. don't worry about them planting perfectly straight rows).
Small children develop dexterity and hand-eye coordination at different rates. Struggling with small seeds or heavy bags of soil can make their time in the garden frustrating. To help build their self-confidence, keep tools and supplies size-appropriate to the task (e.g. a small watering can or large seeds for planting).
As early as age 4-5, children begin to show pride and concern about their possessions. They may still delight in flinging dirt and digging up worms (who doesn't?), but they also appreciate having some garden space of their own-especially one with a marker or sign that announces it is their garden. Children this age are discovering their independence and can be left alone (but within site) to conduct their own activities.
The most important thing to remember when gardening with small children is to keep things fun. Let the kids take the lead and if the opportunity presents itself, you can use the moment to fill in the rest of the story (e.g. explain how a seed grows into a plant while the child is covering seeds with dirt).
For more ideas on gardening with kids and information on how to get a gardening program started at your school, visit: www.kidsgardening.org
Read More Comments
Planting seeds with your kids is a very rewarding project for everyone. Getting to see the seeds that they planted sprout into plants is fun and educational.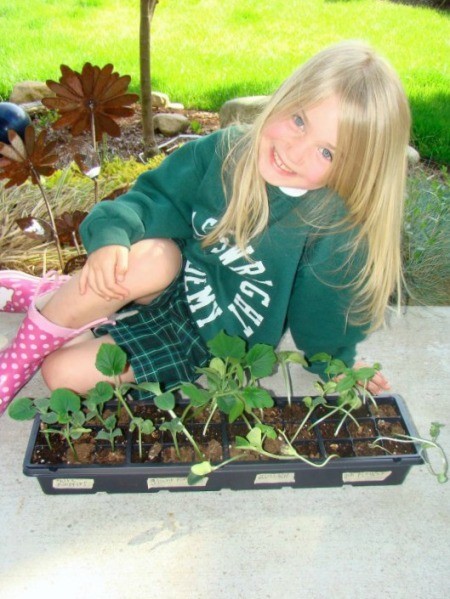 Anyone that takes the time and effort to teach a child to garden will reap great rewards for their effort. Being responsible for tending a garden also fosters a sense of "nurturing" and helps them learn to care for other living things.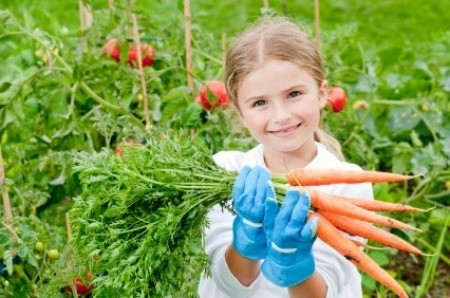 Read More...
I have two little boys and they are growing pumpkins this year in our garden. We bought these little kits for a dollar each but you could use a recycled container and a package of pumpkin seeds just as easily (maybe a yogurt container).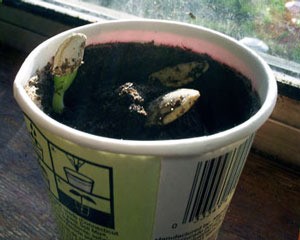 Read More...
My little granddaughter wanted to help me work in my garden but she needed to wear gloves. I realized the inexpensive stretchy winter gloves that are one-size-fits-all would work for her, and they did. These gloves are often sold for as little as $1.
Kids (of all ages) love to play in the dirt. That makes an activity like gardening naturally appealing to young children. It provides them with exercise, helps grow their self-esteem, and gives them an outlet for creativity.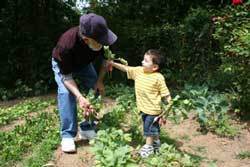 Read More...
Questions
Ask a QuestionHere are the questions asked by community members. Read on to see the answers provided by the ThriftyFun community or ask a new question.
I have a 4 year old granddaughter. We did a garden together that did OK, but I am looking for other planting projects to do with her. I have 6 big pots that we can put stuff in.
Clarissa from East Chicago, IN
Answers
March 19, 2009
0

found this helpful
You just have to grow giant sunflowers!
Kids love them as they recognise them easily, and you can have a competition to see whos grows the tallest!
March 22, 2009
0

found this helpful
Easy to Grow Good to Use
Herbs - just about any kind
Miniature Ornamental Sunflowers
Johnny Jump Ups ( mini viola) > lovely in pots
Marigolds from seed
Mint - many varieties & great in pots
Ornamental Cabbage - grow well in pots, and look great through into the winter
For a bit of fun. Have your Child grow a carrot forest.
Cut the top end off the carrots. Place a paper towel on a saucer or shallow dish. Add water, add carrot tops. Place in a sunny window. Keep wet watering daily. In about 7 to 10 days they will have a carrot forest! Also, you can grow alfalfa sprouts the same way. My kids loved it. Great for winter gardening and totally fun for kids. Hedera
March 22, 2009
0

found this helpful
I plant tomatoes in pots and enjoy them. They flower then have little green tomatoes for a long time before they turn red and are ready to eat. For a child tomatoes may require too much time to reap the reward which can be around July 4th or later depending on the variety. We use a tomato cage to support the heavy branches. I love the taste of home-grown tomatoes so much. I grow one plant of grape tomatoes and one of larger tomatoes for slicing. The funny thing is DH doesn't like fresh tomatoes, so I give the overabundance to neighbors.
Last year growing tomatoes upside down was very popular. I think this site had instructions to make those in a DIY project. If you have a place to hang them, you might search for those.
Have fun and good luck with whatever you plant.
Answer

this Question

...
Photos
Share on ThriftyFunCheck out these photos. Click at right to share your own photo in this page.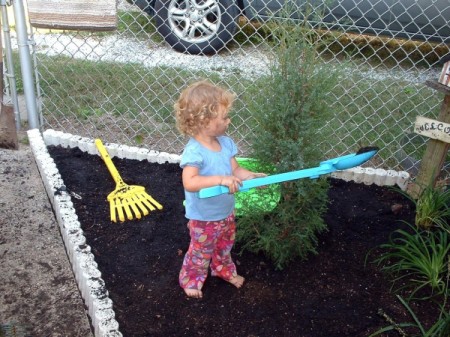 Photo Description
True gardeners develop the passion early in life . . . and quickly become serious about their newfound reason to awaken each morning.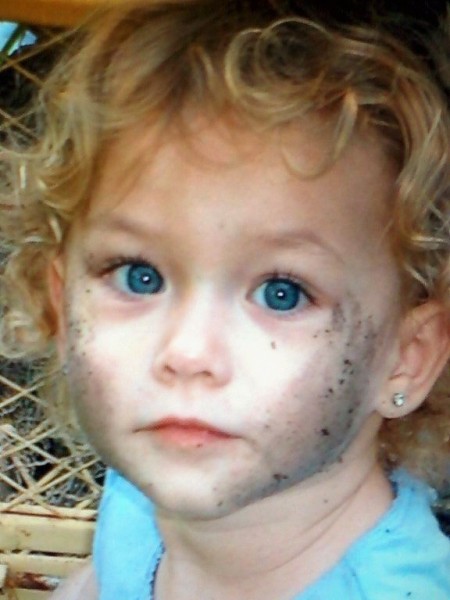 Archives
ThriftyFun is one of the longest running frugal living communities on the Internet. These are archives of older discussions.
Starting a small garden is an excellent way for
children to learn how to care for the environment
and gain an appreciation for the many birds and
insects with whom we share our gardens. It is
also serves as an introduction to the changing
weather patterns and the seasonal cycles of nature
from planting the seed, harvesting (e.g. picking
and drying flowers or collecting the seed) and
then preparing for the next season.
If you can, set aside a special area in the garden
where they can grow the flowers and vegetables of
their choice. Decide what kind of garden your child
wants - butterfly, herb, flower, vegetable etc.
Sketch a plan for the garden and mark off the area
in the garden. Turn the soil breaking up any lumps
and condition with organic compost if necessary.
Tip: Buy child's sized gloves, gardening tools and
watering can to make the project fun and more real.
If you don't have a suitable area of ground use
container pots, planter boxes, or even an old half
wine barrel will do.
With very young children it is easier to grow flowers
directly from seed. The roots on seedlings easily
become damaged as they take them from the pots and
transplant into the soil.
Let children choose their own plants and look for
easy germinating types such as Cosmos, Snapdragons,
Sunflowers or spring bulbs such as Daffodils as young
children are typically impatient waiting for plants
to germinate and grow.
For vegetables - carrots, peas and strawberries tend
to be a favorite as they are easy to grow and great
to eat.
Create a garden journal and take photos as the project
progresses so your child will have something to remember
over the winter months until the next season begins.
Advertisement
Published by ThriftyFun.
© 1997-2020 by Cumuli, Inc. All Rights Reserved.
https://www.thriftyfun.com/Gardening-With-Children-1.html