February 26, 2009
0

found this helpful
The romantic scheme of flowers and cupids, etc. from the time of Louis of the 18th C. is a lovely one - Altho if you go too far it makes a very feminine room - so for married and others, you might want to add a touch of baronial - stone, wood furniture to look like a chateau.
By Jesikarena (Guest Post)
February 27, 2009
0

found this helpful
Me and my husband just redone our bedroom to make it romantic and the things we done were. Candles, candles, candles, we painted the walls a dark red for passion! We bought a gorgeous over stuffed comforter that just makes you want to roll up in it LOL, and of course romantic photos of you two to remind you or your love.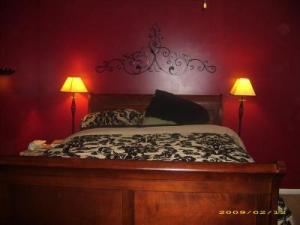 February 27, 2009
0

found this helpful
If you are just talking about some romantic ideas you can change out to add to your rooms setting, I have a few. I saw the idea on Carol Duval show years ago and use it all the time. Which is to buy the tiny white Christmas lights and get the strand as long as you like it, I use the 25 set ones, that way its just long enough to drape in the room at some location.
And you buy the silk flower of your choice and you remove the flower from the wire stem then just slide it over the lights tiny bulb until it is even with the green part of the lights wiring. I have 3-4 strands that I change out depending on the season or my mood. I love the off white magnolia on them, or roses, and sunflowers look pretty too.
Another thing I do is fill a very big glass wine goblet I have with about 1/4 the inside with potpourri then place a large pillar candle inside the center of it to light. You can also place a very large silk scarf over your lamp top shade using a low watt bulb with constant supervision, the design of the scarf will come through and cast soft shadows on the wall of the colors in the scarf, also spray that lightly with perfume.