June 17, 2009
0

found this helpful
I have never had the cookies, but I wonder if a person couldn't just add a package of raspberry flavored Jello to any sugar cookie mix or recipe and get raspberry sugar cookies.

(Guest)
Gold Post Medal for All Time! 846 Posts
June 17, 2009
0

found this helpful
I also have never had those cookies. Is the raspberry flavor 'in' the cookie dough itself or is it imprinted jelly or a topping?

June 17, 2009
0

found this helpful
The question I have about this recipe is , do you have the web site address for this Home Interior place? Then we all can go there and look to see if they have posted the recipe for this cookie! I sure hope someone finds out the recipe and soon, as my mouth is watering already just thinking how good they must be! LOL
I LOVE RASPBERRIES myself! : - )
Hello, yes, it's on the home interior web page. I thought maybe someone might know how to make these. I'm telling you these are so good. I believe they are about $7.00 that's not bad, guess we can buy them from there. You all gotta try them. I kept going into my brothers house after the cookout we had some with everyone. My niece brought them. Everyone laughed at me cause I was going in house & getting me more. You all need to try them they are wonderful. Please let me know if you all buy some & what you think of them. I'll bet you buy more. Thanks everyone. Donita.
Hey guys when you get on that page you have to click the search, then type in cookies. There is other flavors too on there.
I'm gonna get me some, all of the 3 different kinds, ha ha. Hope you all love them.

(Guest)
Gold Post Medal for All Time! 846 Posts
June 18, 2009
0

found this helpful
For the cost of that cookie mix, plus shipping and handling charges (picture from their site below), I say bake your own for a lot less money! Looks like all they do is add a few crushed dried raspberry pieces (and possibly McCormicks Raspberry Extract) so all you have to do is find a good old fashioned sugar cookie recipe, add a couple teaspoons of raspberry extract and some raspberries! And you can also do a 'thumbprint' on the center of each cookie before baking and place a teaspoon or two of raspberry jam in the thumbprint crevice!
P.S. The site you listed is a pyramid (multilevel) marketing scheme similar to Amway.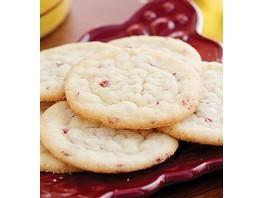 Joan
Bronze Feedback Medal for All Time! 186 Feedbacks
June 18, 2009
0

found this helpful
I looked at the description of the cookies on the web page and the way I took it they use something like raspberry chips in them. I am also wondering if Celebrating Home bought out Home Interior or what? Last winter I purchased some items on line from a Home And Garden party plan and now when I typed that in this Celebratin Home page came up.
If they bought out the Home Interior party plan, I'm not real impressed with the selection of merchandise. Home Interior had a lot better selection of decorator items and less dishes.