April 19, 2011
0

found this helpful
Top Comment
I have raised beds that I started by using the 8x8x16 inch cinder blocks, held in place by rebar stakes. The wooden stakes just rotted off within the first year. I add at least 1 cubic foot of composted steer manure every fall/winter after I pull out my summer veggies, and we're good to go by Easter. You can also use big pots or half barrels. Again, look for yard sales for those on the less expensive side. My cousin has a couple of horse troughs with holes drilled for drainage, right outside the kitchen door for the herb beds. I hadn't thought of using dresser drawers! That sounds really neat, especially if you are just starting out and have an old dresser to dispose of.
April 16, 2011
0

found this helpful
I hope the boxes work for you also, but think that once they are wet with rain and heavy soil and once the vegetable roots expand in the box, it won't hold up. It would be sad to see your vegetables, soil and hard work slowly colapsing to expose the roots and also losing your expensive soil into your yard.
Maybe you can find some waxed boxes? That might work better...
April 18, 2011
0

found this helpful
I agree with gouligann... the moisture will break down the sides and you have to water thoroughly so I would put the creativity hat back on with this idea. :(
April 18, 2011
0

found this helpful
I agree with the rest. One use for cardboard in the garden is to put it down between plants and then mulch over it. It really keeps the weeds from emerging.
April 18, 2011
0

found this helpful
I also am afraid they will break down and you will lose your plants. I don't have any good ideas for you to try instead. I would be interested in what ideas others might have. I would like to try raised gardening also but same as you, I don't want to buy all that wood. I am in Wisconsin also, apparently we have a long time until spring anyway!!! Good luck, Lori.
April 18, 2011
0

found this helpful
I agree with folks; boxes are not good to make raised beds from but you can make them out of old dresser drawers. Just make sure and make holes on the bottom for rain or water to run out! You can even put the dresser drawers on top of the grass or decking.
April 18, 2011
0

found this helpful
Instead of cardboard boxes, you could try using the large tractor tires. My husband got some for free that had been discarded and they worked great for us.
April 18, 2011
0

found this helpful
Something I may try is using one of those plastic kiddie pools. You can find them for $10 or so. Just drill drainage holes, fill & plant! I would suggest doing container gardens if you really want a raised garden without the high cost. Check yard sales. That's where I buy most of my garden tools & even some plants too! Also, my Mother-in-law turned me on to "lasagna gardening" I'm creating a raised bed for fall soon. You pile on layers of wet newspaper, then compost & soil, peat moss, mulch, repeat until you got a nice thick bed 12" high or so. Then everything begins to break down, and in a few months you have a rich, nutrient fill soil bed ready for seed! Good luck!
April 9, 2012
0

found this helpful
I'm going to try cardboard boxes, too. But I think I will reinforce them with bands of duct tape, or possibly metal strapping, at least two bands around each box.
Growing season here in NY is very short, so I think they will hold up that long. I'll still do a good bit of my veggies in my collection of galvanized wash tubs, my old stand-bys for container gardening.
But I've got to give the box idea at least one try this season. Especially after seeing that building raised beds with new materials can cost over 200 bucks.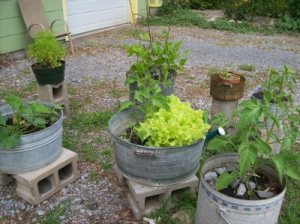 April 22, 2012
0

found this helpful
Interesting discussion here about the various materials for raised beds. In earlier years I wanted to have our small veggie garden raised as our land is so flat and stays wet too long in the spring. Gradually I just kept raising that parcel of ground with leaves and other mulch until it had become a raised bed. Of course it wasn't quite like the boxed garden beds but it was raised and worked out quite well.
A couple years ago our grandson built a garden box that fit right around the original bed. Then I filled it up with more soil and now have a nice raised bed. The point here is that you can have a raised bed without a container.
You do need to avoid walking on the garden bed and compacting the soil. Just keep adding material that will enrich and keep the soil loose and easy to work. The picture is my garden before the box was built around it.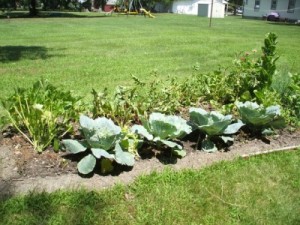 April 7, 2013
0

found this helpful
I used cardboard boxes for planting containers last year. I live in the Pacific Northwest where we get lots of rain and wind. The sides did not break down. Roots of the plants grew down into the ground, not out the sides. It worked fine for one year. It was a bit of work filling each one with dirt and then emptying them out at harvest time. If it was an area where I was building a raised bed garden I could have just lifted up the sides of the boxes and spread out the dirt and done another row of boxes on top. But that was not suitable for where I had them so I had to empty out the dirt. Cardboard boxes do work. Each of my boxes was free standing and they held up fine.
May 6, 2013
0

found this helpful
This season, I will be using feed sacks and old wicker laundry baskets to plant potatoes. Got the idea from TheArtofDoingStuff.com who plants hers in bushel baskets. Anything will do, apparently, if the sides are high enough for continuous hilling-up.
Also, last year I found old bookcases for raised bed. The narrow ones with no back to them. Just lay them down flat and voila!, instant raised bed. I laid one down next to a fence and planted birdhouse gourds there which need to climb. This year, I have my peas there.
May 6, 2013
0

found this helpful
I would just worry about what your containers are made of if you are planting things you will be eating. Old tires, lead painted boxes and other chemicals can leach into the soil and make your food toxic. Just something to think about.
May 7, 2013
0

found this helpful
We use totes that we fill with hay. Just drill a few holes in the bottom,fill with hay,plant the item in the hay,water,and it will be great!
March 19, 2017
0

found this helpful
Here's an idea I got from Mother Earth News is straw bales. This is especially good if you live where there is rock and clay soil like here in the Missouri Ozarks. Hollow out the center of the bale, add soil, and plant. It's best to run a drip line from bale to bale since they dry out faster than in-ground planting. After harvest untie the bales and spread for winter mulch where needed. Works great!