Create decorative soap dispensers by using mason jars and recycled pump dispensers from inexpensive store bought liquid hand soap plastic dispensers. Add themed fabric circles and ribbon to create a very pretty dispenser for liquid hand soap or lotions. Any glass jar or plastic ones for kids bathrooms work well and metal lids work best.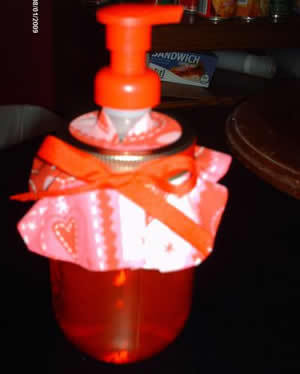 Approximate Time: 20 minutes or less
Supplies:
recycled pump dispenser
glass or plastic jars and metal lids work best
circle fabric to add your theme
ribbon for decorative detail
scissors
small hammer
nail to punch hole through center of metal lid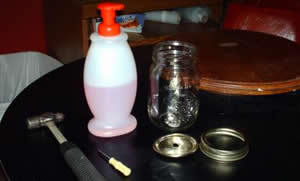 Instructions:
Save the liquid pump dispensers from the plastic containers you buy for liquid hand soap (sold at Wal-Mart or Dollar Tree for $1). Most come in lots of colors to match your theme. Take your jar's metal lid (here I have the seal and ring type lid but the one type screw on metal lid works the same way). In the center of the metal lid, punch a hole through the lid using a hammer and a nail. Then take your liquid soap dispenser pump and pull apart the tubing from it under side and push your upper larger part of your dispenser through the hole you just punched into the metal lid, making sure it fits snug (you may need to get your hole bigger as needed).
Then from the underside of the lid, now attach back your tiny tubing back unto the dispenser part. Then place your lid onto your jar and close shut, this will tell you how much (if any) of the tubing inside to cut off. You want to make sure your tubing that is in the liquid does not lay flat against the bottom of your jar. You need just at little distance there so the liquid soap can flow through well.
After you have made sure that is correct, take any theme fabric you like (here I used a pretty valentine cotton print). Lay your lid onto the fabric and cut out a circle fabric that is 2-3 inches wider than your lid. Then in the circle's center, cut an X slit so you can slip the fabric circle over the pump dispenser. If you were using the seal and screw lid as I did here, you would first put your seal lid on (this is the part I put my hole in for my pump dispenser) then you would put your fabric circle over it then screw on the other metal lid ring, which will automatically tightened up your fabric circle underneath.
Then I tied a red ribbon around my ring lid to add more decorative detail. If you are using just one solid screw on lid, you follow the same instructions as given but after you place your fabric circle over your pump top part. You then just use a rubber band to go over it to hold it on the lid, and then tie around your ribbon as well.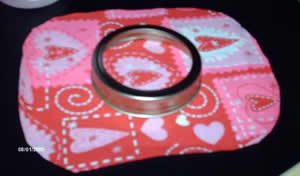 Those dispenser tops come in many colors when you buy those for $1 at Wal-Mart or Dollar Tree so if you have a certain color or theme, you would like just try to pick your color the next time you buy those plastic disposable ones. You could do green with using St Patrick Day fabric circles as covers, any holiday theme, or sports themes. The plastic jars work best for kid's bathrooms for safety. And these make great gifts. After the Valentine's holiday has gone, I will replace my fabric circle on this one pictured here with a pink rose fabric, which is what my bathroom theme is.
You can also hand paint onto the front of your jars or add the rub on designs to create lots of themes on this useful and very pretty soap dispenser. Pinking sheers also give a very pretty design to the outer edge of your fabric circle when you cut it but I do not have any so I used just plain scissors.
By Julie from Tenn