September 16, 2008
0

found this helpful
A radio doesn't use much current, but how many watts is the generator? That's what you go by. If you buy ex: 2500 watt generator; that will light up twenty-five 100 watt bulbs; thus, 25x100=2500.
By Diana (Guest Post)
September 16, 2008
0

found this helpful
I live in Louisville and after the Hurricane force winds left most of the community without power (expected to be out 10-14 dys!) an article in todays paper about GASOLINE powered generators states
"find the wattage of the appliance you want to run by checking the name plate. Horsepower must be converted to watts. Motors require 4x as much power to start as they do to run"
in the Cjourier Journal today and credited Virginia Cooperative Extension, THe kingfischer science encyclopedia
Be sure extension cords are adequately sized tohadnle the electricity safely
Use outdoors because generators produce carbon monoxide
By luckyonetexas (Guest Post)
September 17, 2008
0

found this helpful
Northern Tool has a battery for use inside that can power 1500 watts. YOu can only order it online it is not available in the stores. Black and Decker makes a unit that has 400 watts plus is a battery charger and tire inflator. I have both for emergencys. Generators are loud, messy and stinky.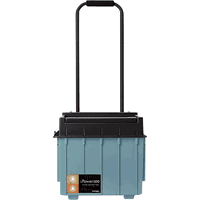 By diana (Guest Post)
September 18, 2008
0

found this helpful
Eddie Bauer (and others) has a battery operated radio for about $50 which can be recharged by cracking the handle. It is also a weather radio, this might be your best bet if you don't need a generator to run appliances in an emergency.
August 18, 2010
0

found this helpful
Buy a cell phone charger for your car instead! Wal-Mart sells battery powered fans.
Buy a battery powered radio and run it on low volume to last longer. Everything is far cheaper than a generator from what you describe you need!