We live in a 2-bedroom, first floor apartment that has an attached garage. Since we can't hang our laundry outside, my husband installed some wash lines in the garage. During the warmer months I'm able to dry my clothes and save money on the electric bill by not having to use the dryer.
By Marjorie from Lewiston, NY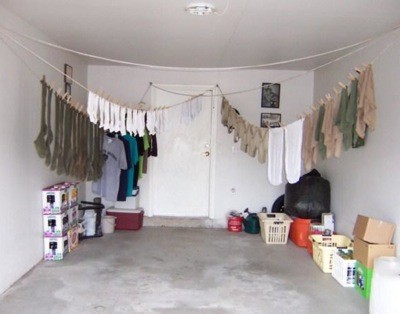 Add your voice! Click below to comment. ThriftyFun is powered by your wisdom!
June 5, 2010
0

found this helpful
Great idea! but have you heard of a drying item called a 'Sheila's Maid? you can buy them in the UK, it consists of wooden strips between two metal end frames shaped like a wide u and two pieces of rope (one at each end) and two pulleys. the two ropes are tied off at a cleat. you can raise or lower the pulley to dry your clothes, herbs, or anything else. I have one at the top of my stairs where most of the heat rises and the clothes are washed over night (on cheap rate electricity) and dried in the day and the cycle goes on until all the washing is done! Hope this helps.
December 24, 2011
0

found this helpful
I've been doing this for years. During the summer months here in South Texas my clothes dry in 15 minutes. As a child living in an apartment in Brooklyn, NY., my mother had a cloths line stretched across her bedroom for the winter months.
We'd hung the laundry on the building roof during the summer until someone stole the sheets. After that one of us kids had to go on the roof and watch the cloths dry.
December 24, 2011
0

found this helpful
I've been doing this for years too! I live in Scotland now but when I lived in the US I always had an inside clothes line. Now I have a drying tower, but I am pushing my husband to build or buy us a Shelia's Maid, those things are fantastic! We've got the drying tower set up in whichever room we're using the wood stove in, works great.
In one home we lived in (FL) we built a homemade Shelia's Maid using (2) 2x4x8, (2) 2x4x4, and screw eyes to run the clothesline through. My then husband rigged a pulley and I could raise and lower the thing, peg the washing, and then let it dry on the screen porch/Florida room-even when it was raining!
Add your voice! Click below to comment. ThriftyFun is powered by your wisdom!
So Many Ways to Hang Your Clothes To Dry: You don't need yards-n-yards of clothesline or a big back yard. Try these alternatives, and I'm sure you can think of more:

(1) Racks from a freezer or refrigerator. After the freezer goes ka-put, salvage the racks, hang them up on nails with wire coat hangers.

(2) Use regular hangers with clothespins. You can hang these almost anywhere, even on one another. You'd be surprised how much laundry you can hang in a small space this way.

(3) String a couple strands of wire between 2 hooks in your ceiling, either in front of your closet or in the shower. If the wire sags in the middle, put a few clip clothespins along it in intervals to hold your hangers.
(4) Also if you have a wooden clothes drying rack, it can stay in your shower all day long, not too bad to just move it once a day when you take a shower.

(5) Be sure to keep your shower curtain rod clean so you can drape something over it to dry if you're in a hurry.

(6) In fair weather, drape your throw rugs, blankets and quilts over your bannister. You can turn them over once during drying if they are really thick and heavy. There now! You hardly have to use your electric or gas dryer at all.

By Jayne

Answers:
Different Ways to Hang Dry Your Clothing
Where there's a will, there's a way Jayne! I always felt sorry for apartment dwellers who couldn't hang their washing out to dry, and I haven't been able to do my washing all week because of rain - I should have used my head like you! I remember my Mum used to dry the washing on a wooden 'book shaped' stand with rails in front of the fire in rainy weather. (08/27/2004)
By Jo Bodey
Different Ways to Hang Dry Your Clothing
We live in a city apartment but I'm from the country and I'm a clothes-hangin' girl! You can buy retractable clotheslines with a hook at one end which you just mount on the wall (make sure you bolt each end to a stable place in the wall, preferably a stud)- just pull out the line and hook it to the opposite wall and you have a nice long clothesline indoors.
I also have a line out on my small 2nd story porch consisting of about 7' of light chain (available by the foot on bolts at the hardware store- inexpensive) strung between two hooks kinda high up near the back of the porch. I just hang wet clothes on hangers in the chain- they are secure and stuff dries nicely in the air. This is also inexpensive and has been so very handy, as we generate way too much laundry every week.
I noticed that one of my neighbors has recently copied this idea on her porch.
Just remember to hang the chain line back a ways- they don't want to see your stuff before their eyes whenever they sit on their own porch. And don't hang "unmentionables" outside- keep the clothesline classy! (08/28/2004)

By Susan