I remember as a child, my mother would save small soap pieces and put them it hot water and mush them up, making liquid soap. We would use it to wash our hands. There were other things she did, such as saving any food containers.
Now, as an adult, I do the same thing. I lost my job last year and now I have 3 part time jobs but none of them add up to many hours. In order to survive, I have to buy food in bulk whenever possible. I use my kept glass jars to freeze my food.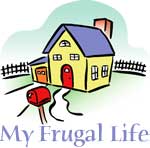 I make large pots of soups, cabbage, beans, and etc. and freeze them. I also make my dog food for my 2 dogs. They gobble it up. I use plastic and glass containers for making homemade lotions, bath salts, candles, and anything else I can think to put in them. I save all my cans and give them to my local SPCA for them to take to recycle and get the cash. I save cereal boxes, coffee containers, oatmeal canisters, and most any other thing I can think of a use for or can search the internet and find a use for.
I don't drive anywhere if I don't absolutely have to. I plan my shopping on the days I have to work and already out on the road. I take all newspaper and cardboard to my local recycle center if I do not need it for a project. I have very little trash to dispose of. I use as little electricity as I can.
I have switched to the energy saving light bulbs and cut off my water heater about twice a week. The water will stay hot enough to use for about 3 days if you cut the water off while soaping up. When the hot water runs out, just cut it back on and start the cycle over again.
I encourage everyone to do as much recycling, re-using, and cutting back as much as possible. We all need to do our part to save our planet.
By Tricia
Do you have a frugal story to share with the ThriftyFun community? Submit your essay here: http://www.thriftyfun.com/post_myfrugallife.ldml