By Martha in TN (Guest Post)
July 19, 2007
0

found this helpful
I'm not sure I know what you mean, are the piggy banks party favors? This being your child's first birthday, I am guessing that there will be as many children there as adults, so why not line your basket with native grasses or other materials, even Easter egg grass, and put rolls of pennies in the basket and let each child have a roll to put into their banks?
Or, why not turn the basket over and drape your table with lots and lots of material, the cheaper the better, and use other thing in different widths and heights under the material, sit the banks around the table, placing the cake on highest or widest and punch bowl on another, use fresh or silk flowers in and around your table.
What ever you do just let the kids and adults have fun, after all that is what a party is all about and everyone will remember it for years to come.
I know you are wanting the party to be a success, as this is your child's first, but just relax and ideas will come!
July 20, 2007
0

found this helpful
Get sparkly with the basket. Coat it with glue than add sparkle powder. Get a feather boa and glue it around the top edge of the outside. Fill with shredded tissue paper. Fill with small sandwich bags full of cheerios and fruitloop style cereal. I would put a bank at each child's place with a coin that represents the number of kids at the party (ie nickles for 5 kids, dimes for 10 kids etc.) to equal the number of little ones at the party in each one.
If you want, polish coins with toothpaste to make them shiny. Take lots of pictures and be sure the birthday girl has a fairy crown of silk flowers and tinsel.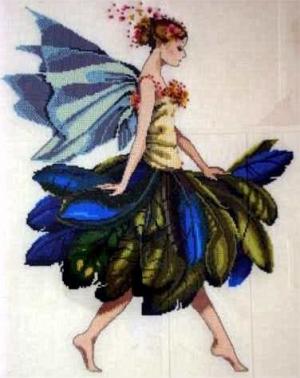 By Mary (Guest Post)
August 3, 2007
0

found this helpful
well im just suggesting something, my neice is acutally having same party, and maybe you could make a basket with things that resemble tinkerbell like fluffy stuffs and then put the tinkerbell piggybanks infort of the basket. Something I thought of.
By Ekela (Guest Post)
April 16, 2008
0

found this helpful
My friend is planning a Tinkerbell Luau for her daughter but not till December 2008 and I'm trying to get ideas on Centerpieces too! Budget is Limited so I'm looking for the easiest and cheapest way to make something! I'm from Waianae, Hawaii The island of Oahu
By elizabeth c (Guest Post)
February 7, 2009
0

found this helpful
You can put them on the table, you can do one of two either one on the center with some balloons or two on each end of the table with balloons. Now I have a question I also am going to celebrate my daughters first birthday and it also themes tinkerbell. I have everything already but the tinkerbell piggy banks and I have been looking for them everywhere but can't seem to find some.When I do find it there just ugly, so my question to you is where did you purchase your piggy banks?
When I saw them I though that there were to die for, I would appreciate it if you could e-mail me @ shorty13_26 AT yahoo.com. Thanks in advance
By Jane (Guest Post)
February 21, 2009
0

found this helpful
It's probably too late for your party, but I would use the piggy banks in a relay race. Have one box of sand with pennies hidden in the sand for each piggybank. Time the children to sift through the sand to find the pennies. When the time is up, the child with the most pennies in their piggy bank wins a prize.