Life can be quite challenging and interesting, if one applies some ingenuity and has an open mind. I tend to walk everywhere which is borne from not wanting to pay the bus fare.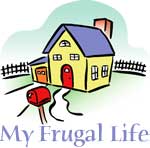 When I realized that not wanting to pay bus fare was another way of saying "I'm cheap" I then realized that this could turn into something for me. I began grocery shopping starting at the "reduced for quick sale" produce shelf. Then I discovered that a packed lunch (with perhaps a Tetrapak half quart of wine) and a nice hike was a splendid way to spend an afternoon. I live close to the shore of Lake Ontario and I can walk for miles along the sandy beaches.
On one of my long walks (10 miles) from work to home, I came across a picnic bench with a small cairn erected out of skipping stones. (Cairns are common in the far north - made of large stones and thought to be erected as a direction beacon.) How perfectly Canadian, and frugal. Although I am Canadian by birth and life, I am frugal by choice. I see so much more than what I would notice from a bus, much less a car. It's a great feeling and environmentally friendly -- but I'll leave that discussion for another day. Here's to frugal frolicking on the sand.
Sam from Hamilton, Ontario
Do you have a frugal story to share with the ThriftyFun community? Submit your essay here: http://www.thriftyfun.com/post_myfrugallife.ldml