I purchased a new finch feeder and fresh new nyger seed. I have fed the finches for numerous years with no problem. Now they don't come to the feeder. I see them drinking from the bird bath and sitting in the trees, but they don't feed. What's wrong? I even moved the feeder near a tree. It never was near a tree before.
By Joyce
Answers
July 23, 2010
0

found this helpful
Best Answer
There could be a couple of things going on:
1. Check the freshness of the seed (if it has even a little mold in it, they will avoid the feeder).
2. When was the last time you cleaned the feeder?
3. Have any predators been about? Hawks, racoons, even grey squirrels can worry them enough to go elsewhere.
4. Don't forget: once you start feeding them, stick with it. Finches are habitual feeders. Once they find a food source they like to go back again and again.
Good luck and enjoy!
Answer

this Question

...
April 6, 2010
1

found this helpful
We have store bought bird feeders for the yellow finches. And they would rather eat from an old nylon anklet (or panty hose leg) than anything else. My hubby used a 3 inch piece of PVC pipe and cut a small hole in the birdseed bag and secured it to the hole with rubber bands.
Now we can fill the anklets without too much waste. Fill the sock with seed you'll be surprised how much they will stretch and hold. Tie a knot at the top,make a small hole to hang it in a tree or bracket. Might take a day or two for the birds to find it, but they will come in bunches very soon.

By Great Granny Vi from Moorpark,Ca.

Answers:
Feeding Yellow Finches
What a simply wonderful idea. I have always bought those white mesh feeders that are prefilled with thistle seed. By recycling my old panty hose I can save money and it is always cheaper to buy the seed in bulk, too. I just love the finches that visit my feeders, and I get black-capped chickadees, too. They will eat the thistle seed that falls on the ground, but their favorite is the black-oil sunflower seed that I put out. I love feeding the birds, and here in the upper midwest winter can be a little harsh so I like to help them out all I can. (01/24/2006)
By Paula
Feeding Yellow Finches
Please be careful where you place the feeder regardless of what type you use. My parents were very excited about their feeder last summer and equally happy about the large number of birds, but then the feeder was placed very close to their front porch (we're in the South and use our front porch a lot) and the smell was bad. The droppings from the birds around the feeder was so bad they took it down before summer ended. This year it will be placed away from the house where viewing the birds is all we'll do.(01/25/2006)

By Kristy
Feeding Yellow Finches
Here is a picture and I hope a better description of how to fill the stockings. Happy bird watching.

Great Granny Vi (03/26/2007)

By Vi Johnson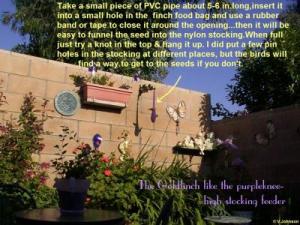 Feeding Yellow Finches
Sometime birds leave for the winter. Here in So.CA we have hummers and finch all year long. They will come back if the seeds you keep out are clean and dry. Watch for mold if the seeds get wet. Wash out the feeders, let dry before refilling them. Birds know where the good "free lunch" is and will bring others. Be consistent. They will be back. Garden hugs. Great Granny Vi (03/26/2007)

By Vi Johnson
Feeding Yellow Finches
Jane are you using fresh thistle seed? Sometimes they prefer the more expensive Nyjer seed. It is always good to replace your thistle, too. When you buy thistle seed you need to make sure the seed is black not brown. (04/30/2007)

By Alex
Feeding Yellow Finches
We have several feeders for the Yellow Finches. Early spring we had over 30 Yellow Finch every morning. They needed more feeders. We filled the knee high hose about half full of seed, hung them in the trees near the other feeders. The birds loved these feeders, they could cling their feet to the nylon hose. These were cheap feeders, $1.00 a pair at Dollar Store. Or use your worn out ones. (05/31/2008)
July 20, 2010
0

found this helpful
I have been feeding the yellow finches Nyger seed for years. But this year they are not coming to feed. Why? I have seen them flying in my yard and drinking from the bird bath.
By Joyce from Mississauga, Ontario

Answers:
Feeding Yellow Finches
Perhaps trying a new bag of thistle might help. Sometimes the seed gets stale and the birds won't eat it, even though it smells OK to you. (07/14/2010)

By Nancy
Feeding Yellow Finches
Thanks so much for your advice on feeding yellow finches. Actually, I did just that. I threw out last years seed and bought a new feeder and new Nyger seed. Now I keep looking outside waiting for my arrivals. Thanking you. Joyce (07/14/2010)

By Joyce