Myrna
Bronze Feedback Medal for All Time! 168 Feedbacks
January 7, 2008
0

found this helpful
Your dog really needs vet care....call several places and get their office fee before making appt. Also, if they decide to provide medicine, find out what type they want to give and then look on the internet for better pricing. If it's a prescription medicine for the poor girl, then you will need to provide your vet's name and phone number; also fax. Get this while there. Here's the website I use for my pets and good luck. This site will contact your vet for the OK and you will have a lower price to pay.
By Sally Pifer (Guest Post)
January 8, 2008
0

found this helpful
You can apply for a Care Credit credit card. This can be used to charge medical procedures for humans and animals. They have different offers such as no interest for the first 12 months, etc. I found out about this through my vet. You can find out about Care Credigt on the internet too. Also, you can contact your local humane society, animal friends, etc.

January 8, 2008
0

found this helpful
My sister had the same thing - DONT WAIT! they waited and the lump grew into a huge thing that dragged on the ground before they FINALLY PUT HER TO SLEEP! I was sick about it but i couldnt afford to pay for my sister... my point is its going to get bigger and bigger and could up and explode in your house!
Wouldnt that be horrible for you AND the poor dog? Do whatever you have to do, cry beg borrow or steal but get the poor girl to a vet before its too late and all they can do is put her down! Please... Here is a pic of my dog, who is a boy, but if this happened to him, id take care of it yesterday!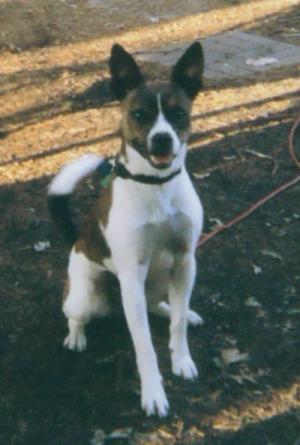 By Paula Jo Carr Mebane, NC (Guest Post)
January 8, 2008
0

found this helpful
Ask an area vet about working with you and the situation the animal is in....PLEASE DO NOT WAIT...she is your extended family member and counting on you for everything....take the animal on a leash into the vet's office with you and ask the front desk for the vet to come speak to you "personally & privately" for a moment PLEASE. The vet should have compassion after seeing one of God's animal's in alot of trouble health wise and should work with you.
Good Luck and keep us informed please!

January 8, 2008
0

found this helpful
Call your local ASPCA or humane society. Do NOT wait to get her to the Vet.
God Bless, please keep us posted. You both are in my prayers.
Jennifer
Northern Virginia

January 18, 2008
0

found this helpful
I am a 'human' cancer nurse and I recently had two cats that had lumps in their mammory glands. I can tell you from human and pet experience that this is probably cancer (breast cancer as we call it in human medicine). Many times, if caught relatively early, it can be removed and your poor dog could be back to normal and live a healthy life. If it has been there a long time, it may be important, before agreeing to surgery, to have them make sure it hasn't already spread. Usually xrays can give them a clue. If it has spread it may be best to put her to sleep. I know the tests to check for spread of disease can be expensive, but it would benefit you and your dog to know before you put her through a surgery that won't help her to life longer and healthier. If once they started the surgery and found it had spread you will not only have the expense of surgery, but also to put her down. I know it seems harsh, but cancer can spread easy and be painful and expensive to treat long term.
My first cat was a male and he just needed the lump removed and it cost $160. The other was more expensive becaus the tumor had spread to multiple mammory glands and I went forward with all the pretesting. She is 13 so I knew from experience if it was that involved and she was older, it would be best to make sure all her organs were clean before agreeing to the surgery. They chose to remove both chains of mammory glands. They gave me a quote of what the maximum would be--$800, but that included the pretesting I chose to do. My first bill was $250, everything involved in the first appt. I spoke to my vet and asked if it would be ok to wait another week or so to do the actual surgery. She told me since she had it for a while and it appeared to be only in the glands, I could wait a couple weeks, but no longer. I wait 2 weeks and took her back for surgery. They did the surgery, kept her overnight just to let the incision dry. They caught me off guard when I picked her up and the said my bill was $300 and not $500+. It turned out to cost less than anticipated.
The point of my story is to obtain a consult and find out what the maximum cost would be, maybe then you can plan.
I also know the care credit is a good option, but so is search for a vet that may be willing to work with you. I have found over the years that vets in smaller communities, not associated with a group of vets can be more willing to work out a payment plan or even take post dated checks all at once. This could break of the payment but still assure them they have something in hand to collect their money.
Just do a little research as friends for names. Do some calling around and ask about visit and test cost to get an idea of who is more expensive.
But my best advice to to get it taken care of one way or the other to prevent her from any suffering.
Good Luck.
By Joy (Guest Post)
April 2, 2008
0

found this helpful
I recommend that you find a retired Veterinarian in your area that may still treat your animal. Sometimes they will work from their home or a clinic at their home. Hurry and get this done. It will eventually kill your dog. Best of luck to you.

April 29, 2008
0

found this helpful
My dog has had smaller lumps in the past but my parents decided not to do anything with it. they claimed it'd take her too long to recover after the surgery. Now she just got this big lump on her breast and I don't know what to do. The surgery is so expensive here in Norway. She's 10 years old, mix between pointer and english setter. Somebody help me! I love this dog!
By Jerel (Guest Post)
May 9, 2008
1

found this helpful
My dog has the same problem , she is a pit bull. It's just because she has had too many litters of pups, she is a healthy 9 years old pit.

August 22, 2018
0

found this helpful
What was wrong with your dog mine is 7 she's a pit and she has two huge ones vet after vet couldn't figure it out she did have three litters one each year and now the other dogs are fixed but I can't fix her until I get the problem solved and she's not losing weight and her stomach is almost always bloated sterioids didn't take it away. Couldn't get approved for the Care credit card and no vet takes payments here at all. Just hoping she can make it through whatever when I have a good thousand saved to cover everything in case of surgery
By Di (Guest Post)
February 28, 2009
0

found this helpful
My sister has a Yorkie who will be 14 this year. She was spaded before her first heat cycle & has been very well taken care of. She developed a sudden onset of wheezing type noises especially when she went out to potty and came back in or got excited. The vet cleaned her teeth, removed a few & put her on antibiotics for a sinus infection, he said.
Now my sister has noticed a lump off to the side of one of her nipples which was not there just a few days ago. She gets a bath about every 2 weeks and it was not there the last bath. She rolls her over and checks her each time she is bathed or groomed since she is getting so old. Have any of you experienced this?
Do you think the wheezing and the lump could be related. I was concerned it could be cancer causing her to wheeze (cancer in her lungs) or make a reverse sneezing sound. Tiffany has never acted this way before. We realize she is getting to the end of her life cycle but was hoping she would not develop cancer to end her life.
This just happened and my sister is watching this lump over the weekend and will call the vet. Does it have a chance of going away or could it also be an infection and not cancer? Thanks in advance for your replies.

July 9, 2013
0

found this helpful
I have felt my dogs breasts and inside the breast are lumpy things. Is it natural? I got told it was tissue in the breasts but it is in two of them, next to the back legs.

December 27, 2016
0

found this helpful
Look online to the clinics in your area! Even call any of the, and tell the, your situation... they will tell you of places that make you pay based on your income.... also, if you can't afford her I would suggest giving her to someone who can.. please take no offense into that... it's just she needs the help NOW! It's so serious and she could die if you wait... please help her... do whatever you can... keep us updated

April 28, 2019
0

found this helpful
My pitbull Marley just had puppies 9days ago and she has a lump in her right side of her breast